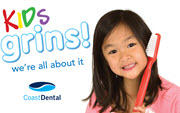 GAINESVILLE, FL (PRWEB) April 05, 2016
Coast Dental is proud to be a Superman Sponsor of this year's Super Sealant Saturday event taking place at the University of Florida College of Dentistry in Gainesville on Saturday, April 9. The school's dental students, residents, and faculty members will provide free oral hygiene instructions, dental sealants, and fluoride treatments to more than 250 low-income children from the Alachua County area.
Tooth decay is rampant among children; almost half of all children have had a cavity between the ages of 2 and 11, according to the Centers for Disease Control and Prevention. That's why it's important to take children to the dentist. Unfortunately, the CDC reports about one in five children (ages 5-11) have at least one untreated cavity. Children from low-income families are twice as likely to have untreated tooth decay as children from higher-income households. Untreated tooth decay can cause painful toothaches and lead to problems with eating, speaking, and focusing on schoolwork.
The good news is that cavities are preventable. Children who brush and floss daily have fewer cavities. Professionally-applied fluoride can prevent about one-third of decay in baby teeth. Applying dental sealants on the chewing surfaces of the back teeth is another way to reduce decay. Coast Dental is proud to support University of Florida College of Dentistry's efforts to help kids have healthy smiles.
Coast Dental provides family dental services to children, teenagers, adults, and seniors at more than 170 locations in Florida, Georgia, Texas, Nevada, and California. Many of our offices also offer specialty dental care including orthodontics (braces), endodontics (root canals), periodontics (gum treatment), oral surgery, and pediatric dentistry. For locations, money-saving coupons, and more information, visit http://www.CoastDental.com or call 1-800-32-SMILE.
About Coast Dental
Coast Florida P.A., with its professional affiliations, is one of the largest providers of general dentistry and specialty care in the United States with affiliated practices operating as Coast Dental and SmileCare in Florida, Georgia, California, Nevada and Texas. Coast Dental offers family dentistry services at all of its locations, plus many offices offer orthodontics, oral surgery, endodontics, periodontics, and pediatric dentistry. Coast Dental Services, LLC is a privately-held practice management company that provides comprehensive, non-clinical business and administrative services to its affiliated practices.