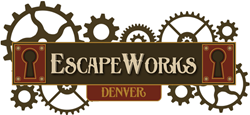 It takes real team effort," said John Williams, co-creator of EscapeWorks Denver. "Be prepared to collaborate in creative ways, discover each other's strengths and who remains cool under pressure.
Denver, CO (PRWEB) April 06, 2016
EscapeWorks Denver announces the grand opening of its first location: 1529 Champa Street in Denver. The grand opening weekend is April 15-17; doors open at 1:00 pm MT. Participants are encouraged to book before April 15 to take advantage of grand-opening discounts, which can be found on the website at http://www.escapeworksdenver.com.
What is it?
Escape rooms, or puzzle rooms, are a new entertainment venue sensation drawing a lot of attention in major metropolitan areas. In any given escape-room scenario, a puzzle-solving team made up of 2-8 people enters a unique, theme-based room and has 60 minutes to solve the clues that will "unlock the door." Within each room are puzzles, clues, and codes that must be deciphered. Sometimes a clue will lead to another clue, a way out, or even a hidden room; all with the pulse-pounding thrill of trying to beat the clock, while watching the minutes tick away.
"It takes real team effort," said John Williams, co-creator of EscapeWorks Denver. "Be prepared to collaborate in creative ways, discover each other's strengths and who remains cool under pressure. It's no wonder we've noticed a trend toward escape rooms as a corporate team-building exercise!"
Puzzle rooms are great fun for the entire family, blending the best of modern role-playing games with the classic mystery game. The creators of EscapeWorks Denver, John Williams and Eric Hill, designed three scenarios to choose from:

Egyptian Tomb – Uncover the reason for the disappearance of an archaeologist from the 1940's
The Big Game – After the opposing team locks puzzle participants in the coach's office, players have 60 minutes to get free and lead the team to victory
Casino Heist – In the midst of cleaning out the casino's vault, participants discover a cohort has double crossed the crew and the cops are on the way
More information:
For more information, contact John or visit the website at http://www.escapeworksdenver.com
Contact: John Williams, 303-945-6521, john(at)escapeworksdenver(dot)com
Address: 1529 Champa Street, Denver, CO 80202