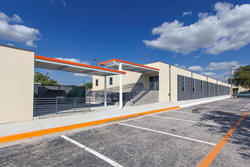 Mansfield, TX (PRWEB) April 05, 2016
Design-build commercial modular building firm Ramtech Building Systems of Mansfield, Texas has announced that the company has received a first place Awards of Distinction (AOD) recognition at the Modular Building Institute's (MBI) 2016 World of Modular annual convention and trade show held March 17-20 at the Manchester Grand Hyatt Hotel in San Diego, California. The company won the award in the Relocatable Education category for a pair of modular buildings which are being used by the University of Texas System as bio and mechanical engineering labs. Comprising of a total of 8,736 square feet, the two facilities were installed on a semi-recessed grade beam foundation using Ramtech's traditional permanent modular construction approach. Completed in only 90 days, the buildings utilize a corrugated metal finish exterior painted with an UltraCrete textured coating, and were designed with site constructed concrete steps, decks, and ramps to give them an appearance that matches the surrounding structures. The modular school buildings each have a slightly different interior configuration, with the bio engineering facility using a five classroom layout while the mechanical engineering building incorporates one large classroom, three standard size classrooms, and restrooms that serve the faculty and students from both buildings. Both buildings have sprinkler systems to meet the required fire safety code, and their DX split mechanical systems were integrated into the University's existing AAON HVAC equipment.
This was Ramtech Building System's 20th Awards of Distinction win since the MBI started the competitive program in 1988. At that time, the MBI began recognizing building excellence in several market categories which has evolved into showcasing the industry's best projects for both relocatable and permanent building applications. The awards are judged by an independent panel of building design and construction experts on architectural excellence, technical innovation & sustainability, cost effectiveness, energy efficiency, and calendar days to complete. To view all the winning entries and see a sample of the latest in innovative approaches using relocatable and permanent modular construction, view them at the MBI's 2016 Awards of Distinction page.
About Ramtech Building Systems
Since 1982 Mansfield, Texas-based Ramtech Building Systems has been providing innovative permanent modular construction and relocatable modular buildings for and educational institutions, government agencies, healthcare providers, and Fortune 500 companies throughout the Southern United States. As a design-build construction company, Ramtech offers full in-house design, a manufacturer direct product, and complete site construction services all within a single-source solution. By emphasizing a value engineering approach, Ramtech has successfully completed over 3,500 projects of diverse sizes across multiple industries. Their project portfolio includes both relocatable buildings and facilities built using permanent modular construction and the companies flagship Accelerated Building System prefabricated construction method. For more information, visit the company's website at RamtechModular.com.