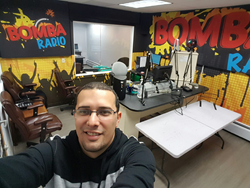 What I do everyday is not only a job, it's a learning experience, which everyday I have the opportunity to grow.
Farmington, CT (PRWEB) April 06, 2016
Connecticut School of Broadcasting/Farmington 2012 Graduate, Jean Canet landed his first internship out of school at Full Power Radio – Bomba 97.1 FM -Connecticut's only Spanish Station. He began as an intern helping with promotions and setup for Bomba events. Today, Canet is on the air weekends, and managing most of the creative, production and translations of advertising at Bomba 97.1!
Along with being a weekend DJ, Canet works on live broadcasts at events, clubs, and concerts and you might also see him on Periscope doing a Live Stream at an event. Canet is also in charge of social media for Bomba, utilizing Twitter, Facebook and Instagram and covers all the station events, contesting and giveaways.
For Canet, this full time promotion is a dream come true, "What I do everyday is not only a job, it's a learning experience, which everyday I have the opportunity to grow. All thanks to the Connecticut School of Broadcasting, that gave me the tools I need to succeed."
The Connecticut School of Broadcasting is the Nation's oldest and largest group of Broadcast Media Schools. CSB has schools in CT, MA NJ, NC, GA and FL. Call 1-800-GO-CSB or log on to http://www.gocsb.com