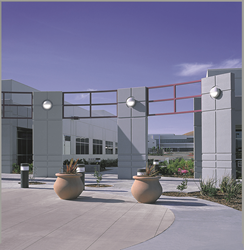 Occupancy sensors are a critical part of new efficacy and efficiency standards and we want to make sure that customers have the best option available
Kenosha, Wisconsin (PRWEB) April 05, 2016
As standards for efficacy and efficiency continue to drive the widespread adoption of LED lighting, Kenall has converted three popular product lines—the multi-purpose Millenium™ Round, Square and Oval luminaires—exclusively to LED, and added an optional integrated microwave sensor in select models.
According to The DesignLights Consortium® (DLC), microwave sensors are specified 17 times more often than photo cell sensors. "Occupancy sensors are a critical part of new efficacy and efficiency standards and we want to make sure that customers have the best option available. Microwave sensors are ideal for conditions that are either very hot or very cold, where an infrared sensor might give a false reading. It also adds an element of safety and security, since this sensor detects movement in areas not in its direct line of sight," said Bill Blackley, Kenall's Director of Product Marketing.
Additionally, the luminaires' thoughtful redesign places the sensor behind the lens, which means it carries Kenall's exclusive Peace of Mind Guarantee®. "This guarantee means Kenall will repair or replace any high abuse lighting fixture made inoperable due to vandalism or accidental impact for the normal service life of the fixture," said Blackley. "It's one of the reasons why our lighting is specified again and again for the most challenging applications," he concluded.
About Kenall
Kenall Manufacturing was founded in Chicago, Illinois in 1963 and has built a reputation for durable lighting solutions of superior quality and exceptional value. Today, the company focuses on the high-abuse, correctional and transportation—including parking, transit and tunnel and sealed enclosure for healthcare, labs, cleanrooms and food processing. Kenall luminaires are designed and manufactured in the USA and meet the guidelines established under the Buy American Act and the North American Free Trade Agreement. For additional information, visit http://www.kenall.com.