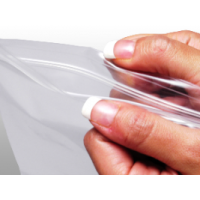 Plastic Bags Manufacturing & Packaging Supplier
Ontario, CA (PRWEB) April 07, 2016
Clear plastic Bags or clear line seal top reclosable bags introduced by Universal Plastic Bags has made life easy for many people all across the globe. This is not a new concept; however, the ziplock bags offered by Universal Plastics features a write-on block in white on top of the clear line plastic bag to identify the content inside the bags easily. This not only helps in maintaining the freshness of fruits and vegetables but also in identifying the contents.
In this day and age when most people are running short of time and trying to maintain a healthy body, these ziplock bags aid in storing vegetables and fruits and even other food contents safely without any bacterial attack. The bags are available in 1 gallon and 2 gallon freezer bags. Moreover, the zipper mechanism works smoothly with the bag because it opens and closes easily even after repeated use.
The ziplock bags are made from virgin resin which makes them safe for storing food products. The bags are approved by FDA thus making them safe storage packs for food products. Besides, due to their clear plastic display the contents inside the bags can be easily seen also which reduces any mistake. The bags look sleek offering e perfect blend of functionality and style. Whether storing vegetables for use in home or carrying salads outside, these are the ideal carriers; safe, portable and stylish.
The bags are 2.7mil thick providing additional strength to store heavier items or to store items in freezer for a prolonged period of time. They are made available in convenient dispenser packs and the cases have bar codes for easy identification. Universal Plastic's spokesperson opined that the bags are super durable, affordable and convenient for the users. The fact that the material is FDA approved adds to the credibility. For more information in details, visit https://www.universalplastic.com/company-profile
About Universal Plastics
Universal Plastics have been in the bag manufacturing and selling business for over 20 years and have served several high profile clients garnering appreciation for the products and services. With adherence to strict quality maintenance their wide range of products have found great use in customers. The bags are manufactured using state of the art equipment and with high quality raw materials catering to a wide range of industries and end users. Due to high business ethic Universal Plastics has a wide range of repeat customers.