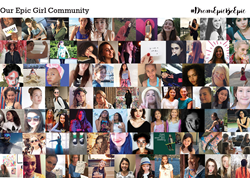 "On the media front, there is a laser focus on fame and external beauty which negatively impacts girls' self-esteem at this vulnerable age."
SAUSALITO, CA (PRWEB) April 06, 2016
Epic Sky, an innovative ecommerce site that collaborates with girls to develop clothes, accessories and content they relate to, launched today. Epic Sky partners with teen designers to develop fashion and accessory collections, and then sells their products on the site (http://www.epicsky.co). In addition, the Epic Sky team develops on-trend fashion essentials –pieces that are pre-approved by a Teen Advisory Board of middle school and high school girls from around the country.
Epic Sky is for Generation Z girls, ages 10-15. This age group is "the next big retail disruptor," according to Women's Wear Daily.

20 million girls (ages 8-17) account for about $43 billion in spending power annually (the teen population has doubled since 1988).
Girls apparel and accessories are estimated to generate $12-13 billion in 2016.
"Girls, ages 10-15, are underserved in the retail market today. We want to fill this void by building an ecommerce and community site where girls, like our daughters, can design clothes and accessories that will go to market, and have a place where they can share their stories and opinions with other girls their age," said Monika Rose, CEO and co-founder of Epic Sky.
"On the media front, there is a laser focus on fame and external beauty which negatively impacts girls' self-esteem at this vulnerable age. We are excited to build a new kind of company where we collaborate with these girls, and value them for their diversity," added Monika Rose.
Great friends, colleagues, and moms of daughters, Monika Rose and Marian Kwon founded Epic Sky. In addition, they have built a seasoned, all-female management team experienced in building brands in children, apparel and retail — between them they have worked with more than twenty major retail brands in the US, including Gap, Disney, Design Within Reach, Athleta, The North Face, Levi Strauss & Co., Title Nine, and Pottery Barn, among others.
Epic Sky invites girls to participate in building this next-generation platform —sharing their stories, life experiences, creative sides, and their opinions to empower girls all over the world.
With the launch of Epic Sky, the company will be the first to cater exclusively to this age group with retail and content combined:
GIRL DESIGNERS
Epic Sky partners with girl designers to bring their capsule collections to market. Girls can contact the company and submit their designs to be considered at https://epicsky.co/contact-us/.
Merging the girls' creativity with the team's business experience, they work together to develop products to sell on the site. Epic Sky documents and publishes the girls' stories with the hope of inspiring other young women around the globe. The designers learn about business, and in turn earn royalties from the sales of their products.
The first lines were developed by two San Francisco Bay Area teens:
— Ellie Toole, age 16, is a jewelry designer and entrepreneur who began designing jewelry at the age of 11. She developed pieces especially for Epic Sky.
— Antje Worring, age 17, developed a swim suit line featuring bikinis in bright colors. She began designing her own suits because she couldn't find any she loved, or could afford.
GIRL ADVISORS
Epic Sky has put together a Teen Advisory Board of middle and high school girls across the country who give feedback on Epic Sky designed clothing designs – from color palette and silhouette to graphics and fabrics.
GIRL INSPIRED CONTENT
Epic Sky collaborates with girl creators – burgeoning editors, writers, artists, and photographers to speak out and share what matters to them most.
—   Julia Rose Kibben, age 17, is from San Francisco. She is a journalist and serious culture detective who loves developing interviews and Op Ed pieces. 
—    Cameron Lawrence, age 16, from NYC, is a writer, illustrator and feminist. She is a social justice warrior who creates comics to discuss the real issues effecting girls today.
—   Julia Ling, age 17, is from Connecticut. She's a filmmaker, Youtuber, and style revolutionary. She uses fashion to create dialog about empowerment and self acceptance.
—   Stella Rose, age 15, is a fashion photographer from Sonoma. She uses her totally unique girl lens to see the world from new perspectives. 
"Once the girls see Epic Sky, they grasp the passion behind what we're building and want to be part of it," says Marian Kwon, CMO and co-founder of Epic Sky. "There's no other company developing an ecommerce + content site just for these inspirational Gen Z girls. They blow us away every day."
"Our calling is to help this next generation of girls discover their passions, gain more confidence, and offer a place for them to share their creative sides in a fun, like-minded place," adds Monika Rose.
ABOUT EPIC SKY
Based in Sausalito, CA, Epic Sky is the premier ecommerce platform dedicated to empowering Generation Z girls ages 10-15 by giving them a place to connect, share ideas, shop, and have a say in the design and development of the products the company sells. In addition, Epic Sky engages girls to design fashion and accessory capsules that are carried on the site. The company also develops on-trend fashion essentials, that are girl-approved. For more information, please visit the company at (http://epicsky.co/).