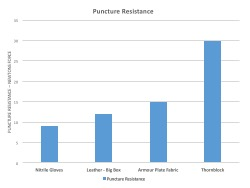 We are offering twice the puncture resistance at half the price of other thorn resistant gloves
Rome, GA (PRWEB) April 11, 2016
O'Neill Innovations Commercializes new puncture resistant technology.
O'Neill Innovations today announced that it had successfully commercialized its Thornblock™ technology gloves for the Home & Garden market. Thornblock™ is part of the Maxfit® and Infinity™ glove lines and offers the best in class puncture resistance.
In a head to head comparison, Thornblock™ gloves demonstrated superior puncture resistance that was 3 times better than current gloves being sold by most big box stores. In additional tests using a 1 mm steel puncture probe with a 20 ° conical point, Thornblock™ outperformed by a factor of 2x, a considerably more expensive glove made from special fabric that was overlaid with tiny armored plates.
The new gloves use patented technology and a new laminate manufacturing technique that includes seamless fabrication without any sewn lines. The glove's main feature is the Thornblock™ puncture resistant layer on the palm side that is very strong yet becomes flexible and soft during wear. The back of the glove is breathable so that the glove remains comfortable in hot weather and during extended wear.
O'Neill Innovations positioned the Thornblock™ gloves as an incredible deal for the American Gardener. The Thornblock™ material is strong but is designed to soften and conform to the shape of the hand after a short period of wear. "After purchase, its important to wear Thornblock™ for a little while to develop the soft flexible feel, but once broken in, these gloves are a fantastic deal", said Michael O'Neill, CEO at O'Neill Innovations. "We are offering twice the puncture resistance at half the price of other thorn resistant gloves".
Thornblock™ gloves are in high demand and initial stocks were sold out shortly after the product was launched. The gloves are an American design and they will replace those more expensive imported Rose Garden gloves that are bulky, uncomfortable and too clumsy to wear.
The company intends to roll out more innovative and exciting products in the 2nd and 3rd quarters of 2016.
O'Neill's products are highly differentiated, they have benefits that are simple to understand and they provide performance that is easily demonstrated.
Infinity™, Thornblock™ and Maxfit® are trademarks owned by O'Neill LLC. For more information, contact O'Neill LLC at Sales at oneill.us.com.