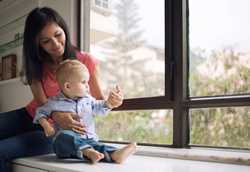 LINCOLN, R.I. (PRWEB) April 06, 2016
As flowers begin blooming and the temperature gets warmer, many families open windows to let fresh air into the home after a long winter. But it's important to be mindful of the potential dangers of an open window. As part of National Window Safety Week, Amica Insurance is offering tips to prevent accidental window injuries, especially among children.
According to Safe Kids Worldwide, about eight children under age 5 die each year from falling out a window, and more than 3,300 are seriously injured. Amica is sharing the following tips from the National Safety Council's Window Safety Task Force:

Always supervise children, and keep their play area away from windows.
Keep windows closed and locked when children are present.
If windows are open, make sure children can't reach them.
For a double-hung window on an upper floor, open the top sash for ventilation and keep the bottom sash closed.
Keep furniture away from windows.
Don't allow children to jump on beds or other furniture.
If there are young children in the home, install ASTM-approved, limited-opening hardware, which only allows a window to open a few inches.
Check window coverings for exposed dangling cords, or use cordless coverings.
About Amica Insurance
Amica Mutual Insurance Co., the nation's oldest mutual insurer of automobiles, was founded in 1907. The company, based in Lincoln, Rhode Island, is a national writer of auto, home, marine and umbrella insurance. Life coverage is available through Amica Life Insurance Company, a wholly owned subsidiary. Amica employs more than 3,400 people in 44 offices across the country. For more information, visit Amica.com.
Media inquiries can be sent to MediaCenter(at)amica.com.
Twitter: Amica
Facebook: Amica Mutual Insurance Co.