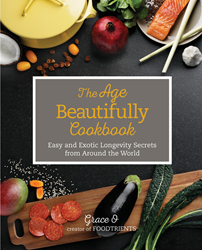 "FoodTrients offer various benefits, from anti-inflammatory properties to repairing oxidative cell damage. My cookbook contains recipes based on this organizing principle using preservative-free foods containing age-defying attributes," said Grace O.
Los Angeles, California (PRWEB) April 05, 2016
Grace O, author and creator of FoodTrients®, has a new cookbook published by Skyhorse Publishing dedicated to age-defying and delicious recipes. The Age Beautifully Cookbook: Easy and Exotic Longevity Secrets from Around the World, goes on sale today on Amazon and Barnes and Noble.
People don't have a choice when it comes to aging, but they can choose HOW they will age – the foods they eat, exercise, and healthy habits can have dramatically positive effects on aging. That's why Grace O created FoodTrients®, a website and cookbooks dedicated to great-tasting recipes that also deliver age-defying benefits.
Eating well doesn't mean sacrificing the foods people love or satisfying meals. The Age Beautifully Cookbook provides one hundred-plus, easy-to-make recipes that promote health and well-being. The recipes are built on foundations of modern scientific research and ancient knowledge of medicinal herbs and natural ingredients from around the world. And consumers won't believe how good they taste, too!
Since the publication of her first anti-aging cookbook, Grace O has identified eight categories of FoodTrients that are essential to age-defying and healthier living – Anti-inflammatory, Antioxidant, Disease Prevention, Immune Booster, Mind, Beauty, Strength, and Weight Loss. Specifically designed logos represent each category and are indicated with every recipe along with summaries of the recipe's healthful properties. These benefits show how specific foods, herbs, and spices in the recipes help keep skin looking younger, prevent the diseases of aging, and increase energy and vitality. By incorporating these properties in an everyday diet, people are more likely to look and feel younger, have more energy, and improve their mood and mind.
The cookbook also includes Grace O's Feel-Good Formula for Longevity, Beauty and Wellness, and lists of the top age-fighting fruits, vegetables, grains, spices, and proteins. Plus, a guide to age-defying FoodTrients and their benefits, a list of ingredient resources, and menus for entertaining.
Who knew that the right foods in sufficient amounts could do so much good for your body? Now there is the science to prove it.
The Age Beautifully Cookbook: Easy and Exotic Longevity Secrets from Around the World is available in both hardcover and eBook online and at bookstores nationwide.
About the Author
Grace O has been cooking and baking professionally all of her adult life. As a young adult in Southeast Asia, she managed her family's cooking school and eventually opened three restaurants. Grace has worked more than twenty years in the health-care industry and is the owner and CEO of three skilled nursing facilities in California. She is also the author of The Age Gracefully Cookbook and lives in Pasadena, California. Visit Grace O's website at http://www.FoodTrients.com
About FoodTrients
Combining her passion for food and a lifelong commitment to promoting a healthy lifestyle, Grace O has created FoodTrients®, a unique program for optimizing wellness. A FoodTrient is her name for the natural anti- aging properties of food. Grace O is a fusion chef with a mission: to cook up recipes for sustaining a long and joyful life that are built on a foundation of anti-aging science and her work in the health care industry. Mixing foods and unique flavors culled from a lifetime of travels in Asia, Europe, and America, Grace O encourages young and old to celebrate a full life that embraces diversity. Lifestyle tips, age-defying recipes, and secrets of the healing properties of food are the centerpiece of FoodTrients– all available through cookbooks, the website, e-newsletters, and much more. For more information visit foodtrients.com and at facebook.com/foodtrientsagegracefully.
The Age Beautifully Cookbook
Easy and Exotic Longevity Secrets from Around the World
By Grace O
Skyhorse Publishing hardcover (April 5, 2016)
280 pages | ISBN-10: 1634507975 | Price: $24.99
The Age GRACEfully Cookbook
The Power of FOODTRIENTS To Promote Health and Well-being for a Joyful and Sustainable Life
By Grace O
Skyhorse Publishing hardcover
152 pages | ISBN-13: 978-1-63450-378-5 | Price: $19.99
EBook ISBN-10:1634503783 Price: $13.99