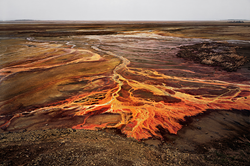 Houston, TX (PRWEB) April 06, 2016
As the last installment of the season in its major downtown concert series, Musiqa presents "Music from Near and Far III," a dynamic evening of music at The Hobby Center's Zilkha Hall, April 9 at 7:30 PM. Musiqa, two-time winner of the Chamber Music America/ASCAP Award for Adventurous Programming, is proud to present another carefully curated program which highlights interdisciplinary collaboration between prominent Houston arts organizations, this time with FotoFest and the Houston Cinema Arts Society. Prominent on the program are two brand-new commissioned works by Houston composers: Musiqa artistic board member Marcus Maroney's "Earth Songs" is presented in collaboration with FotoFest; and Musiqa composer emeritus Rob Smith, whose "Angenieta" will receive its premiere. In addition to the musical works, a short film by Ingo Putze, "Solo Finale," will be screened.
Marcus Maroney's new work is inspired by a series of photographs by the celebrated Canadian photographer Edward Burtynsky which explore the impact of humankind on nature, from strip mines to oil exploration to burgeoning industries in locations such as China.
Rob Smith's "Angenieta" is a celebration of its namesake, Maria Angenieta von Lohuizen-Meijer, who died in 2013. Commissioned by her son, Jan, the work pays tribute to the late world-traveler by carefully incorporating (and altering) one of her favorite works, "Bist du bei mir," attributed to J.S. Bach.
The program includes three further works by American composers: "And Legions Will Rise," a work for clarinet, violin and percussion by Kevin Puts, whose opera "Silent Night" won the Pulitzer Prize; "Around," a piano trio by composer and harpist Hannah Lash; and the piano quartet "I Found It by the Sea" by Brooklyn-based composer Timo Andres, whose music has been noted for its deft interweaving of classical and popular idioms.
Performers include Richard Hawley, clarinet; Tali Morgulis, piano; Blake Wilkins, percussion; Caleb Quillen, double bass; and the Axiom String Quartet.
"Music from Near and Far III" is the final installment in a series of concerts exploring works by composers based in Houston and elsewhere.
Tickets start at $24. Students and Group Discounts are available. Tickets may be purchased online at http://www.TheHobbyCenter.org or by calling 713.315.2525.
Musiqa presents Music from Near and Far III
The Hobby Center, Zilkha Hall
800 Bagby Street, Houston, TX 77002
April 9, 7:30 pm
Tickets: $24 - $45. Student and Group Discounts available.
Purchase online at http://www.TheHobbyCenter.org or call 713.315.2525.
On The Program:
Timo Andres: "I Found It by the Sea" for violin, viola, cello and piano
Hannah Lash: "Around" for violin, cello and piano
Marcus Maroney: "Earth Songs" for clarinet, piano, percussion and bass (based on photos by Edward Burtynsky, in collaboration with FotoFest)
Kevin Puts: "And Legions Will Rise" for clarinet, violin and percussion
Rob Smith: "Angenieta" for string quartet and double bass (World Premiere)
Performers:
Richard Hawley, clarinet
Tali Morgulis, piano
Blake Wilkins, percussion
Axiom String Quartet
Caleb Quillen, bass
###
About Musiqa
Musiqa (http://www.musiqahouston.org) is a non-profit organization dedicated to the performance of contemporary classical music. Founded in 2002 and led by four composers, Musiqa aims to enrich and inspire the community through programs that integrate contemporary music with other modern art forms. Musiqa celebrates modern creative arts through interdisciplinary concerts that highlight modern music and its connections to literature, film, dance, art, and more. With its innovative collaborations and educational programming, Musiqa strives to make modern repertoire accessible and vital to audiences of all ages and musical backgrounds.
Major support for Musiqa is provided by Houston Endowment, Inc., the City of Houston through Houston Arts Alliance, The Simmons Foundation, Cullen Trust for the Performing Arts, Texas Commission on the Arts, Kinder Morgan Foundtion, New Music USA, Albert and Ethel Herzstein Charitable Foundation and California Pizza Kitchen.