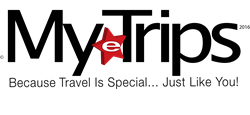 "MYeTRIPS is not the Wal-Mart of travel like Expedia and HotWire with their volumes of discounted products..."
Lake Forest, California (PRWEB) April 07, 2016
MYeTRIPS, a travel start-up that launched three of its four divisions late last year, GIRLeTRIPS, GROUPeTRIPS and CORPeTRIPS, today released new data showing travelers' satisfaction overall, is low. "In today's competitive travel market, finding a deal through large online self-booking travel agencies, is a time-consuming gamble," stated MYeTRIPS Founder and CEO, Monique Berry.
The company's report measured eight factors which contributed to its findings: time involved in researching and booking, competitive pricing or deals, accurate representation of accommodations or destinations, service levels, quality and value, destination information, support when problems occurred, and resolution satisfaction.
Key Findings*: Overall traveler experience:

73% of potential travelers spent more than three hours searching for a deal from site to site
62% of online travel consumers felt pressured to act quickly to secure the deal
21% of travelers believed they received a good value and perks
58% of travelers felt their accommodations or destination were accurately represented
30% of travelers researched their destination to learn about its safety, social norms, and weather
52% of travelers were dissatisfied with the time it took to obtain support when issues occurred
32% of travel consumers were completely satisfied with the resolution to their travel issue
61% of travel consumers had an overall positive travel experience
*The 2016 Traveler Experience Report was based on responses from 2,250 consumers between the ages of 18 and 83, who traveled for either business or pleasure, domestic or abroad during the past 12 months. The study was fielded from July 20, 2015 through March 18, 2016.
Through its research and analysis of travel consumer data, the company identified untapped opportunities to improve traveler satisfaction. Berry boasts that, "MYeTRIPS is not the Wal-Mart of travel like Expedia and HotWire with their volumes of discounted products. We are completely traveler-centric and focused on the specific needs and wants of each traveler. We pride ourselves on our excellent customer service, delivering tangible deals and perks, and giving travelers vital information to help them travel safely."
Through alliances with companies such as Coastline Travel Advisors and Virtuoso, MYeTRIPS and its divisions have access to thousands of hotels, resorts, airlines, cruise lines and car rental agencies throughout the world. Jay Johnson, CEO of Coastline Travel Advisors, and a Condé Nast Traveler award-winning travel agent explained, "agencies like Coastline and MYeTRIPS not only save travelers time and money, we are their personal advocates if travel issues were to occur."
About MYeTRIPS
MYeTRIPS is an online as well as a brick and mortar travel company, comprised of four travel divisions built around the top travel groups. GIRLeTRIPS focuses on quality, value, and safety for families, young adults, and couples. GROUPeTRIPS coordinates travel for small to large groups, and offers discounts and marketing services. CORPeTRIPS offers products and services to increase business travel productivity and to save companies costly travel expenses. BUDeTRIPS, launching in June 2016, is a proprietary booking platform for those who lack the time, interest, or trip planning skills.
###