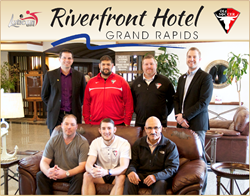 We are extremely pleased to forge this relationship with Latican Sports and support the continued growth of futsal -- Jonathan Hebel, Riverfront Hotel.
Grand Rapids, Michigan (PRWEB) April 06, 2016
The Riverfront Hotel has teamed up with Latican Sports Inc. to host an estimated 3,000 visitors during the next two years who will be participating in or watching local futsal games, a derivative of soccer where five-man teams play on a basketball-sized court with no walls and a smaller, low-bouncing ball.
As the third largest hotel in downtown Grand Rapids, the Riverfront Hotel also was selected as the official base of operations this summer for the Latican Sports Grand Rapids Ole SC adult semi-professional outdoor soccer team, where players will live at the hotel for 3 months and attend team meetings there.
"We are extremely pleased to forge this relationship with Latican Sports and support the continued growth of futsal, which is being embraced in West Michigan as a high-energy sport," said Jonathan H. Hebel, catering sales manager at Riverfront Hotel.
Latican Sports, a Hispanic-owned business formed last year in Grand Rapids to foster the growth of futsal, has 24 youth teams and 4 adult teams in the metro area, said Joe Brefczynski, general manager for ABK Pro Futsal and Ole Semi Pro Soccer.
Developed in Uruguay in 1930, fustal is gaining recognition on the American sports scene, particularly since Mark Cuban recently purchased a principal ownership stake in the Professional Futsal League, which is launching in November this year. Cuban, owner of the Dallas Mavericks professional basketball team, may be best known as a shark investor on the ABC television series Shark Tank. Great soccer superstars such as Pele, Zico, Ronaldo and Neymar grew up playing futsal and credit the game with developing their skills.
Brefczynski said Latican Sports wanted to find a partner with a local hotel since "we think it's integral that we work with other small businesses that are part of the community."
"I drove 131 daily and the Holly's Landing tag always grabbed my attention, so one day I decided to stop in. I'd been to all the big name hotels -- the Amway, the JW -- and when I finally strolled into The Riverfront, I got that same classic, high-end feel, but it was affordable with great amenities."
As the base of operations for Latican Sport's semi-pro team, the hotel will allow players space for relaxation, while the hotel's pool, hot tub and dry sauna will be used for strength-conditioning and post-game recovery. The Riverfront Hotel will also be listed at the stay-to-play location and provide registration space for Latican Sports' youth tournaments.
For more information on the partnership, contact Jonathan Hebel, 616-608-0942. For more information on Latican Sports, contact Joe Brefczynski, 616-802-0401. For more information on the Riverfront Hotel visit: http://www.riverfronthotelgr.com.