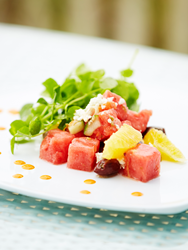 "My Orange Blossom Florida Honey Bee Vinaigrette is a beautifully simple recipe that I want to share. It delivers a fresh splash of Florida to any dish...and it is so easy for anyone to re-create at home." says Jantz
Miami, Florida (PRWEB) April 06, 2016
Kurtis Jantz, the Executive Chef at the Trump International Beach Resort in Sunny Isles Beach, Florida, is in search of the last remaining treasured recipe entries for the resorts' first annual "Heirloom Recipes with a Citrus Twist" Mother's Day recipe contest. With the upcoming deadline of April 15th for entry submissions, now's the time to get cooking.
In preparation for for the resorts' much-anticipated annual Mother's Day brunch, Jantz is also sharing a few of his own citrus-inspired recipes, delivering a little taste of the home-grown flavors now available at Trump Miami.
Why the citrus twist?
Chef Jantz has received a tremendous response from guests who have complimented his use of Florida-grown flavors on the menus throughout the, family- friendly, four star resort.
"It's important to incorporate local ingredients grown in our backyards. Florida citrus is so versatile and an ingredient woven throughout our menus. For example, my Orange Blossom Florida Honey Bee Vinaigrette is a beautifully simple recipe that I am sharing. It delivers a fresh splash of Florida to any dish...and it is so easy for anyone to re-create at home." says Jantz.
Florida Honey Orange Vinaigrette Recipe (pictured with Trump Miami's Grapefruit Watermelon Salad)
Created by Executive Chef Kurtis Jantz
Yield approximately: 1 quart
1 oz. shallots
½ Tb. olive oil
½ cup Florida organic honey (or favorite honey of choice)
2 cups orange juice
2 oz apple cider vinegar
¾ cups olive oil blend
Dash cayenne pepper
Kosher salt to taste
In a small sauce pan, over medium heat, saute the shallots until tender in ½ Tb. olive oil.
Add orange juice and reduce by half.
Remove from heat and let orange juice cool to room temperature
In a small mixing bowl add reduced orange juice and whisk in honey.
Slowly whisk in olive oil then vinegar.
Season to taste with cayenne and kosher salt.
Details about the recipe contest:
Participants can submit one original, non-trademarked family recipe, add a unique citrus twist ingredient to it and then share a special tradition or fond memory about their family recipe. The only two rules are that the recipe must include a citrus fruit of some kind, and must be original content. With 3 meal categories to choose from and countless citrus fruits across the country, the opportunities are endless. The deadline for submission is April 15, 2016.
A total of three recipes will be selected as finalists and will be featured at Trump Miami's Mother's Day brunch on Sunday May 8th, 2016. Brunch guests will sample and cast their vote on each recipe. The recipe with the most votes wins.
The Grand Prize Winner will be announced on May 11th, 2016 and will receive:
Complimentary three (3) night stay for 2 guests in a luxurious 2 bedroom oceanfront suite
Daily breakfast for two (2) in Neomi's Grill
Two (2) fifty (50) minute spa treatments (one per person)
Up to $600.00 travel credit
The Winning recipe featured on Trumpmiami.com and Trump International Beach Resort's social media channels.
All three finalists will receive:
One (1) Omega J8006 nutrition center juicer
One (1) embroidered Trump International Beach Resort culinary apron
One (1) signature chef recipe from Executive Chef Kurtis Jantz
Finalist recipes featured on Trumpmiami.com and Trump International Beach Resort's social media channels
For official contest rules and to submit a recipe, please visit http://www.trumpmiami.com