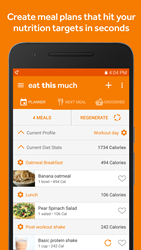 The app tailors meal plans to any diet, constantly adapting to users' tastes and budgets by accessing a large database of curated foods and recipes.
Los Angeles, California (PRWEB) April 06, 2016
Eat This Much, the personalized nutrition assistant and meal planner, announced the launch of their first Android app, which will be available on Google Play beginning today. With over 400,000 registered users already utilizing the platform to create fully customizable meal plans, Eat This Much is now available for smartphones and devices running Android for free.
"People often compromise on eating healthy simply because it's not convenient for them, and they're not in a position to invest the time it takes to research recipes, nutrition values, and their own dietary needs. I was guilty of this all the time when I was working in a lab and going to classes, and it's why I started Eat This Much," said Louis Dementhon, Eat This Much CEO and Founder. "Whether you want to be a vegan bodybuilder, or just find low carb, gluten-free recipes, our number one goal is to make it easy to eat the way you want. Launching our Android app is a huge step towards making sure everyone can easily streamline their diet on the go."
Started back in 2013 with the ambition of putting a person's diet on autopilot, Eat This Much takes into consideration a user's diet goals, tastes, budget, and schedule and automatically generates a complete meal plan. Normal calorie trackers force a person to add foods into their diary one by one. By the end of the day, there's no guarantee that the person will be anywhere near the nutrition targets they're trying to reach. With Eat This Much, there's nothing to track because everything is already entered, and all the user has to do is follow the plan. The app tailors meal plans to any diet, constantly adapting to users' tastes and budgets by accessing a large database of curated foods and recipes. For diet options, users can choose from paleo, vegetarian, vegan, atkins/ketogenic, and Mediterranean, or users can create their own type of diet to accommodate for allergies and dislikes. Functionality also extends to more complicated eating strategies like carb cycling and intermittent fasting.
"I'm a very healthy person, but it is often hard to get meal plans and grocery lists together to stay that way," said Charlie Hoots, an Eat This Much subscriber. "Eat This Much reduced what used to amount to close to an hour of grocery and meal planning to a single button press. A single button press that perfectly produces a Ketogenic meal plan for two weeks complete with a list of groceries to buy. This is a truly unique and incredible program."
With the launch of the new app, the service is now accessible to the large number of mobile users on Google's platform. "I'm really excited to release our Android app and provide an optimized experience for our Android users trying to use ETM on the go," says Patrick McKeown, CTO of Eat This Much. "For too long I've had to respond to emails asking about an Android app with 'coming soon,' but now the wait is finally over! I've enjoyed the learning experience of working on both our mobile apps, and I'm eager to continue improving both of them."
The app is free to download, although users may subscribe to a premium service with additional features. The free version allows users to create and customize a single day's meal plan without limitation. The premium version unlocks weekly planning and is focused on allowing users to buy all their groceries for the week at once and track their daily progress.
Free account features include:

Create unlimited, nutritionally accurate meal plans based on calories, carbs, fat, protein, sodium and more
Tailor profile to suit individual tastes, allergies and restrictions
Enter personal recipes or customize suggested recipes with substitutions or notes
Customize food preferences, block foods, and use custom foods/recipes
Premium subscriber features include:

Automatically create a week's worth of meals to plan ahead on what to eat, cook, and shop for groceries
Track food consumption to stay in line with dietary goals
Plan leftovers automatically to save money and reduce food waste
Customize each day of the week to account for unique nutrition profiles and meal types
Scale up individual meals for multiple people
Save and print meal plans and grocery lists for future use
Save excess groceries for use in future plans with pantry management
Pricing and Availability: The daily meal plan generator is free. The automatic weekly planner and meal plan calendar are available for $8.99 a month, with discount offered for an annual commitment. A free full-feature trial of Eat This Much Premium is also available, and can be accessed through Google Play's In-App purchase system.
Download the free Eat This Much Android app from Google Play today at: https://play.google.com/store/apps/details?id=com.eatthismuch
The app works as a standalone product, but accounts can also be accessed on the website at http://www.eatthismuch.com.
About Eat This Much
Eat This Much Inc. is an automatic meal planner for people that want to meet their dietary goals. With more than 400,000 registered users and over 29,000 new registrations each month, the Eat This Much team is focused on providing tools and support for people who want to take control over their nutrition. Eat This Much is based out of Los Angeles, CA, and was founded in 2013.
For people who don't yet have the Eat This Much application on their smartphones, it is available for FREE on Google Play and the iTunes App Store.
For more information visit http://www.EatThisMuch.com. You can also follow us on Facebook (https://www.facebook.com/EatThisMuch) and Twitter (@EatThisMuch).
Eat This Much Media Contact
Lloyd(at)EatThisMuch(dot)com