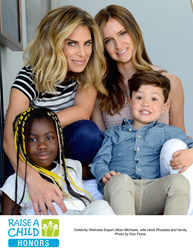 Let Love Define Family®
Los Angeles, CA (PRWEB) April 07, 2016
Celebrity Wellness Expert Jillian Michaels will be honored, among other advocates, and for the first time, guests will have the opportunity to bid on a family dream room designed by a local renowned interior designer as part of the silent auction. This ticketed event is open to the community with proceeds benefitting RaiseAChild and a list of foster and adoption agency regional partners.
Los Angeles County has the largest child welfare agency in the nation with a critical need to increase the number of foster and adoptive families to provide homes for 35,000 abused and neglected children.
In partnership with supportive agencies in local communities nationwide, RaiseAChild expedites the process of finding loving homes for foster and adoptive children by recruiting and educating prospective parents from the LGBTQ and Latino communities. Guests can learn more at the event by speaking directly with RaiseAChilds' agency partners, which include: Penny Lane Centers, Adoptions at Vista Del Mar, The Village Family Services, and Walden Family Services. "RaiseAChild has helped Los Angeles-based agencies successfully increase the certification rate of prospective parents by 23%," said RaiseAChild Founder Rich Valenza. "That's more than four times greater than the national average of 5%."
At the 4th annual HONORS fundraiser, bestselling author, Emmy-nominated television personality and health and wellness expert, Jillian Michaels, and her spouse, Heidi Rhoades, will receive a "Let Love Define Family®" Award for their advocacy of adoption. Kimberly Cornell, News Executive Producer of KTLA, and winner of 17 Emmys, will receive the "Outstanding Achievement in the Portrayal of All Families Media Award". Cornell's stories have raised strong public awareness in support of foster children and adoption. San Bernardino County Sheriff's Department employees, Sergeant Dana Michele Foster, head of the Crimes Against Children Detail, and her wife, Deputy Sheriff, Gina Barker-Foster (retired), will be presented with a "Let Love Define Family®" Award. In addition to Dana's daily work to improve the lives of children in San Bernardino County, the pair has adopted two children, and is again in the process of becoming certified foster care providers to expand their family. The award will be presented by their children.
Additionally, a "RaiseAChild | MakeAHome" Silent Auction will feature furnished rooms designed by some of the country's top interior designers and home furnishings companies, including Elsie Green; Vaughan Benz; Beverly Hills interior designer and cast member of E!'s #RichKids of Beverly Hills, Roxy Sowlaty; and interior designer Charmean Neithart, whose creative ideas have transitioned Los Angeles County Dept. of Children and Family Services offices into warm and inviting spaces for foster children and their families to meet.
Event sponsors include CBS Corporation, HBO, and New York Life Insurance Company.
The 4th Annual HONORS fundraiser will be held at The Jim Henson Company Lot: 1416 No. La Brea Ave, Hollywood, from 4:00 – 6:30 PM on May 1st.
Guests may purchase tickets by calling (323) 417-1440 or visiting http://www.RaiseAChild.org