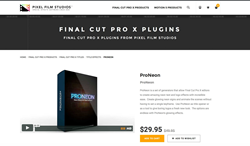 This effect can put a neon sign in any footage all with ProNeon for FCPX.
Aliso Viejo, CA (PRWEB) April 05, 2016
ProNeon is a set of generators that allow Final Cut Pro X editors to create neon text and logo effects with incredible ease. Create glowing neon signs and animate the scenes without having to set a single keyframe. Use ProNeon as title opener or as a tool to give boring logos a fresh new look. The options are endless with ProNeon's glowing effects.
ProNeon is a tool that allows users to achieve the look of a realistic neon sign. Simply drag a ProNeon text generator into the Final Cut Pro X timeline to begin editing. Next, insert the text and tweak the glow controls to achieve the desired look and feel. To create custom Neon logos, choose the Logo presets and follow the same process.
Create any 2-point camera movement with simple controls that can be found in the inspector window. First, drag the playhead to the first frame of the ProNeon generator and determine the start orientation of the camera. Next, move the playhead to the last frame of the ProNeon generator. Lastly, set the end orientation of the camera, and watch the scene come to life.
Create neon signs with up to three different colored glows with ProNeon presets. To achieve this look, simply save out the media/logo into three .png files. Next, insert each piece individually into the drop zones provided. Tweak the glow for each file and orient the camera's start and end points. ProNeon will do the rest.
ProNeon allows users to create realistic Neon signs with wire and detail options. Insert up to 6 rounded wires & twenty sign details with intuitive drop-down menus. Utilize on-screen controls to rotate and position wires to match the text/logo within the scene.
Established in 2006, Aliso Viejo, California-based Pixel Film Studios is an innovative developer of visual effects tools for the post-production and broadcast community. Their products are integrated with popular non-linear editing and compositing products from Apple FCPX. Apple, the Apple logo, Mac OS X, and Macintosh are registered trademarks of Apple Inc. in the U.S. and/or other countries. All other trademarks and trade names are the property of their respective owners.