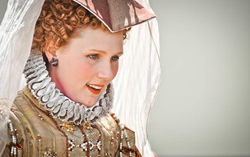 Irwindale, CA (PRWEB) April 06, 2016
A mere ten minutes east of Pasadena, lies a land seemly thousands of miles away. It's a land of imagination, as if built by house elves hundreds of years ago. It's here where jousting knights, saucy wenches, regal ladies, and the court of a beautiful and gracious queen mix with today's hipsters, history buffs, fantasy lovers and families. The Original Renaissance Pleasure Faire– the world's oldest – presents its 54rd season beginning April 9 and continuing each weekend through May 22 at the Santa Fe Dam Recreation Area in Irwindale, CA.
Set in the recreated royal shipyard city of Deptford during the reign of Elizabeth, fairgoers – many of whom are dressed in period costumes – are immersed into the music, language, merchants and entertainment of the era. Thousands of performers rove the 20-acre lakeside shire including Her Majesty, Queen Elizabeth I herself, and Sir Francis Drake, as well as a bevy of knights, ladies, witches and peasants. There are 16 stages of entertainment featuring more than 40 performance groups such as magicians, dancers, jousters, witty shows, musicians, storytellers, jugglers and improvisation troupes.
Be sure to get here early for a once in a lifetime photo opportunity, as the Budweiser Clydesdales help us ring in our 54th season. From 9:30 to 11:30am both days, these majestic animals will grace the area outside our front gates with their presence, and at over 6' tall and weighing about a ton each, this is a sight not to be missed!
Entertainment
The invigorating entertainment lineup includes something for everyone. Guests will surely belly laugh at the antics and hijinks of the Clan Tynker Family Circus. Be astounded by Aaron Bonk's fire whips and sword show. Suspense will take hold while watching the athletic brilliance of The Jousters as they shatter lances against eachother. Be dazzled by the whimsical yet undisputed master of the faire, MooNie! The MagNif'Cent. The Tortuga Twins will tickle the funny bone with their ultimate silliness. Join Broon for his zany vaudevillian smack down. Returning with an international dance and musical flare, Seraphim Arabesque and VaNa MaZi.
Revisit old friends such as The Washing Well Wenches, "Wet Dirty Women, Good Clean Fun", Sky Kings Falconry with their free flying falconry and birds of prey. -Transmitting different Cirque techniques and aerial delights, witness aerial silk artist, Draiku. Sing along with local favorites such as the Poxy Boggards, The Merry Wives of Windsor, The Belles of Bedlham and Sportive Tricks.
Marketplace
The Faire's extensive Marketplace, focused on hand-made wears, offers more than 125 artisans within the fairgrounds. These specialty artists display tempting selection of clothing from authentic Renaissance looks to fantasy and contemporary choices, and so much more! Accessorize with eye-catching hats, bags, and exquisite jewelry; make the look your own with a creative mask, or indulge the inner warrior with the perfect set of hand-crafted armor and weaponry. Choose a tankard, goblet, or drinking horn to help with the sampling of all of the tantalizing tastes the Faire has to offer.
With so many merchants in the village, plus an ever-changing array of guest artisans, one is certain to find something you can't live without. And if the sight of so much artistry gets the creative juices flowing, why not partake in one of our arts and crafts workshops, such as Celtic drawing, beadwork, or basket weaving, which are offered for all ages at Queen's College.
Tasty Treats
Healthy appetites will welcome a roasted turkey leg, the meaty icon of the Faire, as you quench thy thirst on a favorite ale or Port. Twenty-three food vendors offer an array of foods from fish and chips and sausages to salads and sorbets. New this year, make sure to taste the sushi, sashimi, and the fabulous new macaroni and cheese pie. Vegetarian, Vegan and Gluten Free options are available.
Pub Crawl
Laugh, sing and gallivant through the Faire in a guided tour of our finest pubs! The Pub Crawl visits 6 pubs - and receive one drink at each location - anything on tap! Including cider! There are two crawls daily: 11:30 a.m. & 1:30 p.m. The cost is $50 per person to join The Pub Crawl in addition to a regular admission ticket. Each crawl is limited to 25 participants.
TICKETS
Tickets for The Renaissance Pleasure Faire are $28.95 for adults and $15 for children aged 5-12. Children 4 and under are always free. Adult season passes are $150 and a child's season pass is $60. Tickets can be purchased at the box office, at participating Walgreens stores or online at RENFAIR.COM. The seven-week Faire is open every Saturday and Sunday from 10AM til 7PM; April 9 – May 22 at the Santa Fe Dam Recreation Area, 15501 Arrow Highway, Irwindale, CA. A Vehicle Entry fee of $10 is charged by Los Angeles County.
Connect with us via social media!