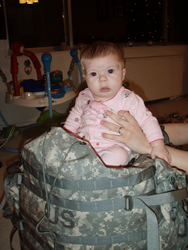 I wanted a way to explain the War on Terror to my child and giver her hope for the future... this Kickstarter Campaign became how I'll accomplish that.
New York, NY (PRWEB) April 06, 2016
Since Paris, now Brussels, the national news is constantly filled with perspectives on terrorism. It is on top of everyone's mind and there is no shortage of opinions about how to combat it, how to defeat it long term, or how to feel about it. The war is undoubtedly complex, but one U.S. Army veteran found a way to simplify the subject and start defeating the enemy through the next generation.
CPT Matt Wilson struggled with how he would explain his deployment in Afghanistan to his newborn daughter some day. The past decade of war, and the continued threat of global terrorism, is not easy to explain to a child. Veterans are even more eager to find a way to share their experiences with their children.
While deployed he jotted down short stories for his daughter in order to find a way to share the principles and morals that matter most about this war. His daughter, now four years old, loves to hear the stories as she falls asleep at night.
"The Brave Badria: Short Stories From Afghanistan," an illustrated children's book, follows the adventures of a young, courageous Afghan girl. Using the wonderment and mysticism of a Middle Eastern "tall tale" and familiar themes of bullying, Badria makes complex subjects accessible to a child. Whether that child be American, English, or Afghan, they will love cheering for Badria as she resists the evil "snake people" who continually seek to control Afghanistan.
"I love Badria because she's brave like me. And she stands up to the bullies!" says CPT Wilson's daughter of the stories. That's exactly the reaction he hoped for.
Matt passionately shares, "I'm not saying I have the answer... but there is certainly more to the story. Every day I think about the Afghan National Army heroes I left behind and hope they're still alive. Heroes like them, like the young Pakistani lady Malala Yousfazi... that's why we need to share this children's story. To make the challenges of the past few wars accessible and understandable to our next generation. Yes we should spare them the gore but they aren't too young to learn the morals of our heroes and the evil of this enemy. Our next generation, especially young Americans, need to know there are still true heroes left on the other side of the ocean... and that good always prevails."
For those seeking to share this book with the children in their lives, CPT Wilson recently started a Kickstarter Campaign that can be found at http://kck.st/22b5PYC or by searching "Kickstarter Brave Badria."
The book is available for $29 and also helps launch the campaign to a much broader audience. Lower contributions can be made to support the cause and higher contributions can be made for personal readings to youth organizations. The Kickstarter campaign ends April 17, 2016.