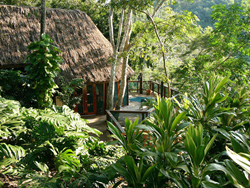 For over thirty years the Fleming family has built Chaa Creek's reputation as one of Belize's most family friendly resorts
San Ignacio, Belize (PRWEB) April 08, 2016
The Lodge at Chaa Creek's recent selection as a top promotional prize for the Disney film "Zootropolis" is one more indication of how family-friendly both the popular Belizean eco-resort and Belize are perceived, according to Chaa Creek's marketing administrator.
Roberto Harrison said Dan Jacobson, director of DJP Marketing and Promotions Ltd, recently informed him that a weeklong stay at Chaa Creek was the top prize in a joint Disney/ Clarks Shoes promotional campaign.
"It's quite an honour that, out of all Belizean resorts, Chaa Creek was chosen as a top prize to promote a film as popular as Zootropolis," Mr Harrison said. "It shows that Chaa Creek is seen as not only family friendly, but as a resort that major brands such as Disney and Clarks Shoes wish to be associated with."
Mr Harrison said that Chaa Creek is also looking forward to being involved in future promotional campaigns that Mr Jacobson flagged.
"I received an email from Mr Jacobson in which he said, 'We would love to work with you on an ongoing basis and Belize is a destination we hope to do more with.' Considering Disney and Clark Shoes' reputation and audience, that's good news for both Chaa Creek and Belize," Mr Harrison said.
Mr Jacobson also said that the promotion was "courtesy of Walt Disney Studios Motion Pictures UK," and explained that Zootropolis is also known as "Zootopia" in other countries.
"As Disney is located in California and the promotion is based the UK, it shows that our own Chaa Creek brand resonates across the globe," Mr Harrison added.
The Zootropolis promotional material reads, in part:
"To celebrate the release of Disney's Zootropolis, Clarks are giving one lucky family the chance to win a fantastic jungle experience!
"The trip includes flights, accommodation at family lodge in the rainforest jungle, trip to howler monkey sanctuary, rainforest trails & much more."
The prize rules stipulate that the winners, who must be residents of the UK and Ireland, will "receive a family holiday for four to Chaa Creek in Belize," including return economy flights from a London airport to Belize for two adults and two children, as well as ground transfers.
Five nights accommodation with all meals, as well as selected tours are all included, and entries must be received by 1 May 2016, according to the competition rules.
Mr Harrison said he felt that Chaa Creek was a perfect match for the sort of family entertainment Disney provides.
"For over thirty years the Fleming family has built Chaa Creek's reputation as one of Belize's most family friendly resorts. We also cater to couples, groups and individuals, and pride ourselves on providing an atmosphere, activities and amenities that people of all ages can enjoy.
"With a Belize Natural History Museum, butterfly farm, stables, canoes, infinity pool, Hilltop Spa, a fine dining restaurant and lounge and other amenities connected by a network of well maintained trails crisscrossing our private 400 acre rainforest nature reserve, Chaa Creek has become known as offering something for everyone.
"It's great to see this reputation acknowledged by DJP Marketing Promotions and their clients Disney and Clarks Shoes, and we look forward to working with them in the future," Mr Harrison said.
The Lodge at Chaa Creek is a multi award winning eco resort set within a 400-acre private nature reserve along the banks of the Macal River in Belize.
ENDS