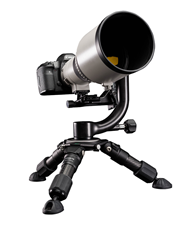 North White Plains, NY (PRWEB) April 06, 2016
Induro today announced two new Baby Grand Induro Tripods. These no nonsense, ground level tripods incorporate a flat, modular head-mounting platform made of lightweight magnesium alloy. This platform accepts photo heads including gimbal, ball, three-way or geared and accessories like a leveling base or video bowl. These accessories are secured with a ratchet style lock lever as well as a safety catch to protect the gear. Each Baby Grand Induro tripod includes a machined aluminum top plate with hard anodizing, a removable oversized weight hook and a set screw for secure lockdown of the tripod head.
Perfect for Ultra Low Angle Shots
The Baby Grand Induro Tripods are available in both a 75mm (Series 3) and a 100mm (Series 4) platform. Perfect for those ultra low angle shots, they are designed to be used with all lenses including ultra long lenses and all formats including large formats and video cameras. The ulitmate in strength and rigidity, they are ideal for macro photography and unique low angle perspectives whether you are in the studio or in the field.
Both units can be converted to video bowls. The 75mm version converts using the MVB23S accessory and the 100mm version converts using the MVB45S accessory.
Each leg can be independently positioned at one of the three locks located on the outside of the shoulder. In addition, each leg features oversized rubber twist locks and is telescoping for adjusting the height. Quick and convenient set-up is achieved in any location.
The large rubber feet are attached to a metal ball joint for quick positioning, which can be removed for attaching the included metal spiked feet. The feet also have pre-drilled holes for securing to wooden boards or staking it to the ground. Transporting is easy with the included carrying case.
About Induro: Induro designs, manufactures and sells a premium line of tripods, monopods and related accessories. Professional and aspiring professional photographers and filmmakers use Induro products worldwide. Induro's U.S. based design team ensures that its distinctive Stealth Carbon Fiber tripods offer the highest quality, craftsman-like attention to detail and exceptional value. Induro products are exclusively distributed by MAC Group in the USA.           
About MAC Group: MAC Group is a sales, marketing and distribution company dedicated to supplying photographers, videographers, educators and students with the world's finest image-making tools, education and inspiration. For more information on the MAC Group, please visit: http://www.MACgroupUS.com