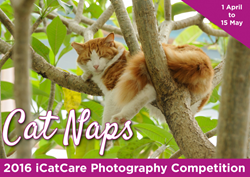 iCatCare's annual photography competition is back! By popular demand, the competition is back for its fourth year with a brand new theme – cat naps!
(PRWEB UK) 6 April 2016
International Cat Care's Photography Competition Cat Naps is now open.
Entrants have from now until 11.59pm (BST) on 15 May to enter their beautiful, unique images of cats sleeping or resting – curled up adorably, with other cats or animals, or in weird and wonderful locations for a chance to win £500.
From the entries twelve winning images will be selected to feature in the 2017 iCatCare Cat Naps calendar (the proceeds of which will go to the charity) and the overall winner will grace the cover of the calendar, receive a year's subscription to Your Cat magazine and will get £500.
Photographers of the other 11 winning images will each receive £100 and all winners will be sent a certificate, three copies of the calendar and a selection of iCatCare merchandise. Winners will also be invited to the iCatCare annual awards event, which the Katzenworld Directors Marc & Iain will also be attending.
To enter Cat Naps please head over to the full announcement on Katzenworld here and follow the provided instructions. Alternatively full details of the competition can also be found on the iCatCare website here.
For further details / images or any questions please contact Katzenworld Director Marc-Andre Runcie-Unger via email - marc(at)katzenworld.co.uk
About Katzenworld:
Katzenworld is an online cat magazine working on providing cat owners and cat lovers with their number one source for:

Insight on cat care
Top cat events
Cat Cafes
Cat products
About International Cat Care:
International Cat Care works to create a world in which 'all cats, owned and unowned, are treated with care, compassion and understanding' International Cat Care is a charity with the vision of a world where all cats, owned and unowned, are treated with care, compassion, and understanding. We work closely with the veterinary profession through our veterinary division, the International Society of Feline Medicine. All our work is reliant on donations and legacies.
Founded in 1958, we are a respected authority on feline health and best practice, working with owners, vets and other professionals around the world.
Registered Charity – 1117342