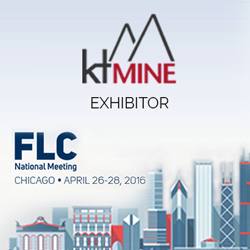 Chicago, Illinois (PRWEB) April 07, 2016
ktMINE, an innovation and intangible asset information services firm, announced today that they will be exhibiting at the Federal Laboratory Consortium for Technology Transfer (FLC) 2016 National Meeting, taking place from April 26- 28 2016, in Chicago, Illinois.
ktMINE's John F. Kennedy, Director of Business Development, and Cash McNeel, Business Development Manager, will be representing ktMINE in the exhibit hall. ktMINE's tools can be used to streamline the commercialization process: see who's playing in a space, find potential partners, identify potential deal terms, and value technologies. ktMINE provides many universities, governments, corporations and consultants access to over 100,000 license agreements and over 60,000 royalty rate structures for evidence-based claims.
FLC holds a national meeting to bring together technology transfer, licensing, patent, intellectual property (IP), research & development (R&D), economic development, entrepreneurs, and business development professionals. Professionals will learn best practices for advancing their technologies, hear from forward-thinking minds in their field, and network with other industry professionals. This year the theme will center on From Discovery to Commercialization, with topics such as software and new tools, IP, export compliance, economic impact of technology transfer, and commercialization alternatives.
About ktMINE
ktMINE, headquartered in Chicago, IL, is an innovation and intangible assets information firm founded in 2008. Focused on mining, organizing and connecting the world's IP information, ktMINE provides businesses across the globe access to insights on industry players, technologies, and developments. For more information visit http://www.ktmine.com, or contact ktMINE to schedule a meeting.