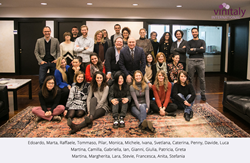 The simple fact of the matter remains that most people outside of Italy just aren't as aware of varieties that are hotter than hot in Italy right now.
Verona, Italy (PRWEB) April 06, 2016
It's that time of year again, when violet-splashed banners, signage, and temporary parking lots pop up around Verona: Vinitaly 2016 is just around the corner. As Vinitaly prepares to celebrate its 50th anniversary, this year more than ever the world's largest wine event will be celebration of the defining characteristic of Italian wine: its astonishing diversity.
With over 500 native varieties of grapes catalogued across the peninsula – and an estimated 500 more growing unnoticed in old vineyards – Italy is home to the most indigenous varieties of any winemaking country, by a large margin. In fact, Italy grows roughly 30% of the world's wine grapes – more wine grapes than France, Spain and Greece combined. Enough, seemingly, for every group of Italian wine enthusiasts around the world to have their very "favorite" trendy grape.
"Currently in the US, the famous varieties such as Nebbiolo and Sangiovese remain the most talked about," says Dr. Ian D'Agata, acclaimed wine journalist and winner of the 2015 Louis Roederer International Wine Awards Book of the Year for his Native Wine Grapes of Italy, now considered the "bible" of Italian grapes and wines. "In China, the generalized love for red wines means grapes like Grignolino have done well, and given the popularity of sweet wines in China, Zibibbo has also met with smashing success."
Italian consumers are generally more prepared to dig deeper into the Italian wine cannon, says Dr. D'Agata. "Varieties like Schioppettino (red), Pecorino (white), and Etna Rosso wines made with the Nerello Mascalese and Nerello Cappuccio grapes are quite hot right now."
But most consumers have yet to scratch the surface of the treasure trove of Italian varieties. "The simple fact of the matter remains that most people outside of Italy just aren't as aware of varieties that are hotter than hot in Italy right now," laments Dr. D'Agata. "This leads to lots of misunderstandings. In Italy and abroad, there are still far too many people speaking generically of Trebbiano or Malvasia, but those two grapes don't even exist - there are at least six Trebbiano varieties in Italy, and seventeen different Malvasie wines."
Add to that level of grape variety Italy's dizzying numbers of wine denominations, and the picture becomes incredibly complex. "Do you really know anyone who knows where the DOC Riesi is?" muses D'Agata. "Or what wines made in Monteregio di Massa Marittima are supposed to taste like?"
That's where the Vinitaly International Academy (VIA) comes in. An educational initiative of Vinitaly International, VIA was born three years ago – the brainchild of Managing Director Stevie Kim – with the objective of explaining and broadcasting the varieties and qualities of Italian wines. To that end, VIA organizes rigorous guided tastings (called Executive Wine Seminars) both in Italy during Vinitaly, and in cities around the world, including San Francisco, Chicago, New York, Miami, Hong Kong, Shanghai, Dalian, Chengdu, Seoul, Moscow and Frankfurt.
This week in Verona in the run-up to Vinitaly, VIA is holding its second annual certification course, a week of theory and tasting designed create and train a community of Italian wine "Ambassadors" and "Experts" around the world. Next week at Vinitaly 2016, Dr. D'Agata will lead participants through 10 guided tastings over four days, focusing on Italian wines but also including excellent wines from France, Georgia, and even China. The VIA Executive Wine Seminars kick off on Sunday, April 10 at 11:30am; fittingly, the first of the series is entitled "Unique wines from rare native wine grapes of Italy."
About:
Veronafiere is the leading organizer of trade shows in Italy including Vinitaly (http://www.vinitaly.com), the largest wine and spirits fair in the world. During its 49th edition Vinitaly counted some 4,000 exhibitors on a 100,000 square meter area and 150,000 visitors including 2,600 journalists from 46 different countries. The next edition of the fair will take place on 10 - 13 April 2016. The premier event to Vinitaly, OperaWine (http://www.vinitalyinternational.com) "Finest Italian Wines: 100 Great Producers," will unite international wine professionals on April 9th in the heart of Verona, offering them the unique opportunity to discover and taste the wines of the 100 Best Italian Producers, as selected by Wine Spectator. Since 1998 Vinitaly International travels to several countries such as Russia, China, USA and Hong Kong thanks to its strategic arm abroad, Vinitaly International. In February 2014 Vinitaly International launched an educational project, the Vinitaly International Academy (VIA) with the aim of divulging and broadcasting the excellence and diversity of Italian wine around the globe. VIA has now also organized its very first Certification Course with the aim of creating new Ambassadors of Italian Wine in the World.
# # #