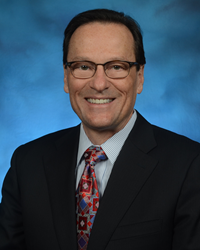 His significant powertrain innovations at FCA, along with his dedication and service to SAE, make him a highly deserved awardee of the Franz F. Pischinger Powertrain Innovation Award. - Cuneyt L. Oge, SAE International President
WARRENDALE, Pa. (PRWEB) April 06, 2016
SAE International announces that Bob Lee, Vice President - Engine Powertrain and Electrified Propulsion Systems Engineering with FCA – North America, is winner of the SAE Franz F. Pischinger Powertrain Innovation Award.
Mr. Lee will receive the award during the Awards Ceremony at the SAE 2016 World Congress in Detroit. The Awards Ceremony will be held Tuesday, April 12, at 5:30 p.m. in Cobo Center.
"Bob Lee continues to be a dedicated SAE member, volunteer and leader for many years. He has been instrumental in founding and guiding SAE's most significant Powertrain activity, the SAE North American International Powertrain Conference, and is a committed supporter of SAE's largest section, the Detroit Section," Cuneyt L. Oge, SAE International President, said.
"His significant powertrain innovations at FCA, along with his dedication and service to SAE, make him a highly deserved awardee of the Franz F. Pischinger Powertrain Innovation Award," he added.
In his current position, Mr. Lee has responsibility for directing the design, development and production release of all engines and electrified propulsion systems for FCA vehicles. The latest include the powertrains being launched in the 2017 Chrysler Pacifica, where the hybrid offering achieves up to 80 mpg equivalent in city driving. Other noteworthy engines include the second generation HEMI and the HEMI® derived 707-hp supercharged Hellcat V-8, which has made global headlines for its unparalleled performance, while still achieving 22 mpg on the highway. Over the last 15 years, he has led teams which have earned 16 Ward's Ten Best Engine awards including 6 for HEMI®.
Mr. Lee also serves as Head of Global Powertrain Coordination on the Group Executive Council (GEC) for Fiat Chrysler Automobiles N.V. (FCA). The GEC is the highest management-level decision making body within the global FCA organization outside of its Board of Directors. He Lee joined the company in 1978 as an engineer-in-training in the Chrysler Institute of Engineering program and has since held a variety of positions within FCA Powertrain.
Mr. Lee has been an active member of SAE International, having been a founding member of the SAE North American International Powertrain Conference Leadership Team and was a member of the Executive Committee for the SAE Global Leadership Conference from 2010-2015. In 2014, he was named an Automotive News All-Star for excellence in engineering. Mr. Lee holds an MBA degree from Michigan State University, a master's degree in Mechanical Engineering from the University of Michigan, and a bachelor's degree in Mechanical Engineering from The Ohio State University.
Established in 2008, SAE Franz F. Pischinger Powertrain Innovation Award recognizes exceptional innovation and competence in powertrain design and development through the annual recognition of an engineer who has demonstrated outstanding innovation in the field. The nominee must be an engineer (employed or retired) whose professional career focuses on powertrain technology in a leadership role, and demonstrates innovation through patents, publications, and/or new products or processes. The award recognizes technical innovation and overall impact on the advancement of powertrain technology over the nominee's career. In addition, contributions made by the nominee to advance SAE's goal to further global mobility technology will be considered.
SAE International is a global association committed to being the ultimate knowledge source for the engineering profession. By uniting over 128,000 engineers and technical experts, we drive knowledge and expertise across a broad spectrum of industries. We act on two priorities: encouraging a lifetime of learning for mobility engineering professionals and setting the standards for industry engineering. We strive for a better world through the work of our philanthropic SAE Foundation, including programs like A World in Motion® and the Collegiate Design Series™.