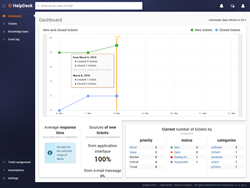 The evolution of the HelpDesk module portends a change in the Axence philosophy towards creating applications. By releasing its new installment, we have shown that we are still oriented towards the constant development of nVision – Grzegorz Oleksy, CEO
Chicago, IL (PRWEB) April 07, 2016
Axence – producer of comprehensive IT infrastructure management software – has released version 8.5 of its flagship solution, Axence nVision. The main changes to the latest edition concern the HelpDesk module, designed to provide remote technical support to companies and institutions. It now has a completely new look and range of functionality, including the ability for users to define their own automated actions.
Functional, Intuitive, and User Friendly
The new HelpDesk module is accessible from a web browser. In response to the growing mobility of administrators, it can be used from anywhere in the world, including on the tablet, which is one of the new features of this version. The interface has been made from scratch in order to maximize intuitiveness and clearness. Use is made easy with several features, including drag & drop (for priority management) and the WYSIWYG editor (tickets/comments/articles). The application was created based on the existing logic of the HelpDesk system, which ensures compatibility with previous versions.
New Features and Improvements
A host of new features were added to the HelpDesk module. The ticket system has been completely redesigned. The purpose of the changes was to shorten the reaction time of support staff to reported problems. The interface is based on a filtered list with elements supporting work on registered events. Among new features is a quick preview of the ticket in the vertical side panel to the right of the interface. Also new is a detailed ticket search engine, written from scratch. It is worth noting that both information updates and individual views of tickets are updated in real time.
A particularly important new feature is automation; namely, rules concerning actions automatically performed in the ticket process immediately after fulfilling predefined conditions.
Automation in Axence nVision 8.5 is flexible: it enables creation of individual rules for different scenarios that may occur during work with tickets. It saves time not only for support staff, but also for those reporting problems. Its configuration is very simple thanks to a wizard containing over 100 variants of predefined conditions and actions. Assigning tickets to appropriate categories based on keyword recognition, generating responses in threads that refer back to articles in the knowledge base, and changing status after appropriate user action are just a few examples of tasks that can be automated.
With the knowledge base, administrators can create guides for employees on how to solve simple problems, a feature which allows support specialists to focus on more complicated tasks. Images or YouTube videos can be also added to articles in the knowledge base, and entries can be categorized in any way. The knowledge base is a self-study guide which can be successfully implemented and used by any company or institution.
In addition to the new features, the HelpDesk module in Axence nVision 8.5 also offers: a wizard for adding screenshots and attachments in ticket view; various options for formatting the content of tickets and comments (lists, bullet points, font color, etc.); and the ability to add references to existing knowledge base articles, and browse user activity in the system with a filtration option (activity log). Also integrated with the module is a chat option, allowing confidential company correspondence via the internal server. All new functions and fixes have been included in the release notes.
About Axence
For over 10 years, Axence has provided professional solutions for complex management of IT infrastructures. The company's flagship product, Axence nVision, responds to the key demands of IT administrators and security officers in scope of network and user monitoring, hardware and software inventory, remote technical support, and data leak prevention. It also provides managers with the ability to optimize the servicing costs of IT infrastructures regardless of their size. Thus far, Axence's solutions have been installed on over 600,000 devices and the number continues to grow.