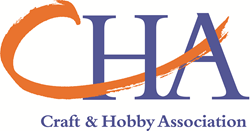 Elmwood Park, New Jersey (PRWEB) April 06, 2016
The Craft & Hobby Association (CHA) is pleased to announce that the 2015 CHA MEGA Conference & Trade Show (CHA MEGA Show) has been named as a 2015 Trade Show News Networks (TSNN) Top 250 Trade Shows in the United States.
TSNN, a leading news and online resource for the trade show, exhibition and event industry, gathers information from show management and available data to annually rank the shows by net square footage. The CHA MEGA Show was ranked number 162 on the list, and is the largest trade show in North America dedicated to the international creative arts industry. The Show brings together retailers, suppliers, publishers, industry experts, and designers of creative products for five days of education, networking and product innovations.
"We are thrilled to be recognized on TSNN's Top 250 Trade Shows list for another consecutive year", said Mark Hill, President and CEO, CHA. "We are looking forward to having another successful Trade Show in 2017 and have a lot of new features in store!"
Exciting changes are underway for CHA's 2017 Conference & Trade Show, taking place January 19-23, 2017. Industry professionals, celebrities and influencers will gather in Phoenix, AZ to experience a vibrant creative destination brought to life by CHA. Attendees will explore inspiring neighborhoods, discover inventive innovation programs, and learn from high-demand trend speakers. Attendees will be first to hear the results of the long-awaited 2016 State of the Craft Industry Report, and more. For more information, visit http://www.chamegashow.org.
###
ABOUT THE CRAFT & HOBBY ASSOCIATION
The Craft & Hobby Association (CHA) is an international nonprofit trade association consisting of thousands of member companies engaged in the design, manufacture, distribution and retail sales of products in the worldwide craft and hobby industry. For more information about CHA, membership or its award-winning CHA Conference and Trade Show, visit http://www.craftandhobby.org.