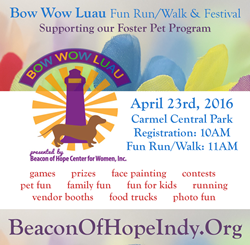 "A fun festival for the whole family, including the family pets. We hope to recruit a lot of new foster homes and supporters and raise awareness of our Foster Pet Program." -Tracy Vatne, Victim Advocate / Foster Pet Program Coordinator
Indianapolis, Indiana (PRWEB) April 07, 2016
Community invited to join Beacon of Hope for its 3rd Annual Bow Wow Luau, a 5K fun run/walk and pet festival to benefit domestic violence survivors and their pets!
WHAT:
3rd Annual Bow Wow Luau Fun Run/Walk & Festival
WHEN:
April 23, 2016
Festival and Registration begin at 10 a.m.
Fun Run/Walk begins at 11 a.m.
WHERE:
Carmel's Central Park, East Shelter
1235 Central Park East Dr., Carmel, IN 46032
WHY:
Raise awareness, support, and resources for Beacon of Hope's Lilly's Lighthouse Foster Pet Program
WHO:
This family-friendly event is open to the public. Visit Beacon of Hope to register and learn how to become a sponsor.
Beacon of Hope is proud to host its 3rd Annual Bow Wow Luau in Carmel's Central Park on April 23, 2016 to benefit Lilly's Lighthouse Foster Pet Program. Bring your dog and join us on a 5k or one-mile fun run/walk, and stick around for the family-friendly pet festival. Race registration and festivities will begin at 10 a.m. with the run/walk starting at 11 a.m. Our pet festival will include music, games, contests, food, and the chance to visit several pet-related vendor booths.
A fun event for the entire family, the Bow Wow Luau is an essential fundraiser for Beacon of Hope's unique Lilly's Lighthouse Foster Pet Program. Tragically, each year 68% of abused women reported violence towards their animals from the abuser. Because of this alarming statistic, 40% of domestic violence victims report they are unable to escape their abusers because they are concerned about what will happen to their pets when they leave. Our Foster Pet Program places pets in a safe environment with a foster family so the victim can get out and get the help s/he needs. While staying with the foster families, the pets may need veterinary care, immunizations, flea/heart-worm preventative, food, toys, and bedding. You can help contribute to those costs.
Beacon of Hope Center for Women is a Christ-centered organization empowering victims of domestic violence to become self-sufficient by providing safety, support and education. Since 2009 Beacon of Hope has been the exclusive domestic violence organization in Marion County offering direct assistance to victims while addressing pet safety. Through its Victim Advocacy Program, Teen Talk Outreach and Education, Life Skills and Employment Program, Baker One Law Enforcement Purple Sheet Program, and Lilly's Lighthouse Foster Pet Care Program, Beacon of Hope offers victims of domestic violence assistance in overcoming barriers that hold them in abusive situations. Beacon of Hope is a non-profit 501(c)(3) organization located in Indianapolis, Indiana.
For more information, call our crisis support center at (317)731-6131 or visit us at BeaconOfHopeIndy.Org.
# # #