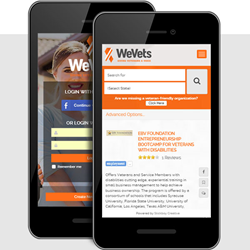 Fort Myers, Florida (PRWEB) April 07, 2016
WeVets.us, Announces Beta launch of a unique and user friendly web/app rating and sharing platform for veterans, their family members and patriots.
http://www.wevets.us is an online community made up of veterans and their support networks accessing, rating, and reviewing organizations meant to serve them. Giving Veterans a Voice.
WeVets' Mission is to give veterans a voice in their communities by empowering users the chance to easily access, rate, and share experiences with Veteran focused organizations, agencies, and businesses.
WeVets.us is 100% free to the user and provides access to thousands of organizations, programs and opportunities, based on location. Veteran owned or veteran-serving organizations can submit a free listing in our comprehensive resource directory. WeVets.us will serve as a platform to call attention to the shams and expose the organizations that are not honestly providing the services they advertise.
WeVets.us can be used to search and rate everything from Veteran supportive restaurants to medical facilities and non-profit programs.
"The WeVets platform will help our heroes distinguish veteran friendly organizations and those who honor their service from those who do not. Together we can make a difference." - Chad Cadwell, President of WeVets, LLC.
We Connect. We Share. We Voice.