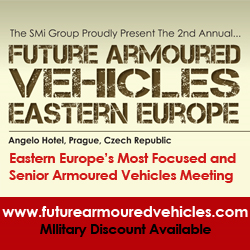 London (PRWEB UK) 7 April 2016
SMi Group is delighted to welcome Michael Rust, Head of Sales and Marketing from IBD Deisenroth as the latest expert speaker at the Future Armoured Vehicles Eastern Europe conference, taking place 17th – 18th May in Prague. In his presentation Michael will examine the need for integrated survivability combined with advanced protection technologies. Visit http://www.futurearmouredvehicles.com/ prweb for more information and the latest event agenda.
Companies that are active in this market and could benefit from meeting decision makers from some of Eastern Europe's leading armoured vehicles programmes, all with big plans for land equipment modernisation, this is an event one cannot afford to miss!
>>> Secure your booking(s) now at http://www.futurearmouredvehicles.com/ prweb
Military/Government/Public sector rates available!
Future Armoured Vehicles Eastern Europe 2016 will provide comprehensive keynote briefings from key Eastern European nations including the Czech Republic, Estonia, Slovenia, Austria and Poland; spotlight session on the Spanish armoured vehicle modernisation roadmap ; best practice on collaboration between defence forces, and progressive insight into the Czech Armed Forces' future armoured vehicle modernisation plans.
With over 6 hours of networking, the 2nd annual show provides a perfect platform to build strategic partnerships and secure future collaborations. Meet old friends and make new contacts.
A preliminary list of those who have confirmed include: AOBP, Austrian MoD, Curtiss-Wright Drive Technology, Czech MoD, DSTL, Estonian Defence Forces, Krauss-Maffei Wegmann GmbH, Lockheed Martin, National Armaments Office, Netherlands MoD, Plasan Sasa, Polish MoD, Spanish Army and many more!
For the full agenda breakdown with all speakers and their topics please visit the event website http://www.futurearmouredvehicles.com/ prweb
For delegate enquiries contact James Hitchen on +44 (0) 207 827 6054 or email jhitchen(at)smi-online.co.uk
For sponsorship opportunities, please contact Justin Predescu on: +44 (0) 207 827 6130 or email jpredescu(at)smi-online.co.uk.
Future Armoured Vehicles Eastern Europe
17th – 18th May 2016
Prague, Czech Republic
Contact e-mail: jhitchen(at)smi-online.co.uk
Contact number: +44 20 7827 6054
Event Website: http://www.futurearmouredvehicles.com/ prweb
------------------------- END --------------------------
About SMi Group:
Established since 1993, the SMi (Group) Ltd is a global event-production company that specializes in Business-to-Business Conferences, Workshops, Masterclasses and online Communities. We create and deliver events in the Defence, Security, Energy, Utilities, Finance and Pharmaceutical industries. We pride ourselves on having access to the worlds most forward thinking opinion leaders and visionaries, allowing us to bring our communities together to Learn, Engage, Share and Network. More information can be found at http://www.smi-online.co.uk