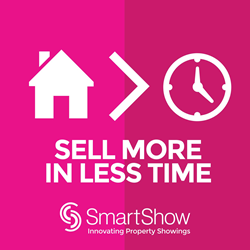 Showing a home with SmartShow is easy, fun and saves time - both for myself, and for my overseas buyers.
Surrey, BC (PRWEB) April 14, 2016
Using the latest in real-time communications (RTC) technology, SmartShow allows remote buyers the opportunity to see a home from anywhere, without missing out on the details. With SmartShow, remote buyers can see a home through a realtor's eyes, interact by asking questions, and feel like they are standing and walking around the home in person.
Realtors using SmartShow can save their remote clients the price of multiple plane tickets by connecting all buyers in a group - local and remote - at once. Realtors can also save time by doing just one showing for each buyer group, instead of multiple. It also allows remote and local buyers to communicate with each other, and get answers to questions immediately while seeing the home at the same time.
While SmartShow currently runs on smartphones and tablets, it will also support what are known as SmartGlasses - Android powered wearable eyewear. SmartShow is the first application created for real estate sales to use SmartGlasses. SmartShow will run on the Vuzix M300 SmartGlasses, which will be released in mid to late 2016. Even though purchasing and using SmartGlasses is not required to use the application, Ted Venema, VP Business Development at SmartShow, believes they are the most ideal way to use the platform.
"This is cutting edge technology being used in a very straightforward way, and that's exactly the reason we developed SmartShow. There's nothing else like it on the market right now. Using SmartShow with SmartGlasses will definitely provide the best home showing experience," he states.
Jim Titus, REALTOR© at Homelife Benchmark Titus Realty, is also excited about the possibilities SmartShow brings to the real estate community. "Showing a home with SmartShow is easy, fun and saves time - both for myself, and for my overseas buyers."
In addition to real-time showings, SmartShow allows buyers to view a video of the showing after it's completed, and share it with friends and family. Buyers won't have to take notes or remember if they had a concern about the home, as they can just review the video for answers.
Created with worldwide buyer collaboration in mind, SmartShow is also a useful marketing tool for realtors. Realtors can record their own virtual tours to use on MLS, brokerage websites, social media and more. Showing video pages highlight nearby schools, parks and points of interest, allowing prospective buyers to see all the information they need in one convenient and custom-branded place.
Visit smartshow.com to sign up for your 30 day free trial and discover the difference real-time communication can make in your sales, both locally and for overseas investors.
###
About SmartShow
SmartShow is a simple real estate sales solution that makes home showings easier than ever. Using the latest communication technology, SmartShow allows realtors, local buyers, and remote buyers to connect in real-time. Remote buyers see a home through the eyes of the person performing the showing, and with two-way communication, they can ask questions and participate, just like everyone is in the same room. Remote buyers don't need to download anything, and they can participate in seconds on a desktop, tablet or smartphone from anywhere in the world. SmartShow is a one-of-a-kind real estate selling solution.