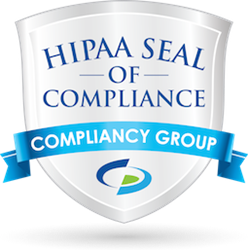 Greenlawn, NY (PRWEB) April 07, 2016
Compliancy Group is proud to announce the launch of a new series of educational webinars for HIPAA Business Associates (BAs). This new program will kick-off on Thursday, April 21st at 2:00pm with a "HIPAA Compliance for Business Associates: The Value of Compliance" webinar. This webinar will be the first in a series over the coming months that will be dedicated to helping BAs understand and manage their HIPAA compliance and the fundamental advantage that compliance can give to organizations and professionals working in the health care arena.
HIPAA compliance for Business Associates has become critical. In March alone, the U.S. Department of Health and Human Services (HHS) levied over $5.5 million in fines against organizations that didn't have the proper Business Associate Agreements (BAAs) in place. HIPAA regulation requires that any organization that in any way handles protected health information (PHI) must have BAAs in place in order to safeguard the privacy and security of the data in question.
Compliancy Group will use this education series as a means of explaining exactly what federal HIPAA regulation requires of Business Associates. BAs will learn what they need to do to achieve, illustrate, and maintain total HIPAA compliance. Using HIPAA compliance as a differentiating factor can open new doors to BAs looking to expand their offerings to professionals in the health care industry.
HIPAA compliance lends a unique value to the work that many organizations already accomplish, and Compliancy Group is here to help simplify that process for everyone.
Learn more about Compliancy Group's upcoming webinar, "HIPAA Compliance for Business Associates: The Value of Compliance" on Thursday, April 21st at 2:00pm.
Compliancy Group LLC allows anyone to simplify the growing challenges of HIPAA compliance, whether they are an experienced health care professional with compliance expertise or a front desk manager without any formal training. The Guard is our simple, cost-effective, web-based solution that can help any organization regulate and monitor all aspects of their HIPAA compliance throughout their entire practice. With Compliancy Group, you'll be guided by our team of Compliance Coaches to Achieve, Illustrate, and Maintain compliance with confidence under the full spectrum of HIPAA, HITECH, Omnibus, and PCI regulations. Visit http://www.compliancy-group.com or contact us at 855.854.4722 (855 85 HIPAA) to learn how simple compliance can be.