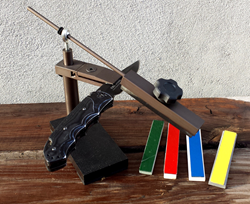 Perhaps the most innovative knife sharpener yet!
Eagle Mountain, Ut (PRWEB) April 07, 2016
Within less than two days after launching its 40-day Kickstarter campaign, Utah-based business ViperSharp had already raised more than its $10,000 goal to launch its first product.
"It's beyond my expectations," said Mike Wood, founder of ViperSharp in an interview Friday. "It's great to see this take off as well as it has. I certainly have worked hard for it over the past year and a half and I'm grateful for all the support."
It's a good thing since Mike has had to work his online businesses as well as his day job simultaneously while working to get ViperSharp up and running smoothly. The idea started in 2014 while trying to improve an existing product. Mike has used a knife for many years with his business, camping, fishing and hunting and even at home in the kitchen. He says he knows the importance of a sharp knife and wants to keep his sharp at all times.
He found that he was not skilled at keeping a perfect angle when sharpening his knives and after seeing some of the products on the market from friends he made an investment for one himself to help out. He found that while it did improve his sharpening game it was lacking and had some "annoying aspects" that were limiting and even some that caused more problems at times. He wanted something better.
He started with just the idea of creating an aftermarket add on product to fix one issue of the existing product but soon realized that there were other things he wanted fixed as well. "It wasn't long and I realized I needed to create an entire new system," he said. That was the birth of the idea of ViperSharp and within a couple months he had the design in his head and was anxious to take it to the market.
Over a year later and after learning much patience, he said the company is finally ready to launch the product on Kickstarter – "ViperSharp, The Best Precision Knife Sharpener." The campaign touts that the product is "designed to address the flaws of current systems on the market."
Getting to this point hasn't been an easy nor a fast process.
"I had to work my butt off on this while continuing to work my regular job (almost full time) and maintain my online business to pay the bills," he said. "I put a lot of extra time into my ebay business to pay for parts and prototypes for the ViperSharp."
In other words, he has sacrificed a lot of time, money and effort to build ViperSharp.
"It's been a very trying time and has allowed me to learn a lot about manufacturing, machining and basically the process needed to bring a new invention to the world."
He said he hopes the Kickstarter campaign will help the company grow to provide for his family and hopefully others in the future. He was thrilled to see the success the first day and says this shows that people still believe in standing behind a good product made in the USA.
"It's going to be a wonderful new adventure," he said.
To see the company's Kickstarter campaign, click here.