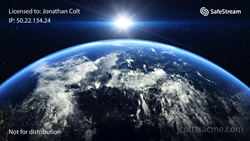 "MediaSilo makes it possible for us to have screeners available at a moment's notice. And, now we can feel even more confident with an extra level of security provided through SafeStream." - Ryan Snowden, manager, originals operations at Hulu
Boston, MA (PRWEB) April 07, 2016
Secure video sharing platform MediaSilo announces SafeStream, an on-demand watermarking solution that embeds user-identifiable information as a visual watermark into video files in real-time. Amidst explosive original content growth in the media and entertainment industry, there's an increasing need for creators to protect content in all stages of the production process, from pre-release to distribution. To prevent leaks, content creators have been forced to choose between locking down content or facing potential revenue loss from unauthorized distribution. SafeStream redefines that tradeoff.
"By adding user-specific information into a stream, you introduce accountability into the supply chain. Whether cuts are sent for legal review, for dubbing, or executive viewing, each copy is unique and can be traced back to a specific user. This keeps honest people honest and prevents unauthorized sharing of content," says Kai Pradel, CEO and founder of MediaSilo.
SafeStream differs from conventional watermarking in several key ways:

SafeStream is instant watermarking. From short clips to feature length movies, video files are uniquely watermarked in seconds. Conventional watermarking can often take as long as the playback duration of a file, which makes it impractical for most workflows that depend on quick turnaround times.
SafeStream means true cross-platform security. Unlike DRM tools, SafeStream does not require proprietary player software, which means it works out of the box on mobile devices and in web browsers.
SafeStream provides a visual deterrent that clearly identifies users by their name, email, subscriber ID or IP address. Various options exist to customize the watermark placement, duration and look.
As a standalone service, SafeStream can be implemented seamlessly into existing workflows, such as media management systems, screening rooms or Apple TV Channels, and is also immediately available as part of MediaSilo's collaboration and media management platform.
"Whether we want to distribute screeners to a select few or thousands, MediaSilo makes it possible for us to have screeners available at a moment's notice," said Ryan Snowden, manager, originals operations at Hulu. "And, now we can feel even more confident with an extra level of security provided through SafeStream."
"We're looking forward to incorporating SafeStream into our process for previewing pre-release content to potential licensees," said Rod Carter, SVP of global operations and supply chain at ITV Studios Global Entertainment. "Visual, on-demand watermarking satisfies the rigorous standards of our content distribution team and will further reassure our many producers that their content has additional visual deterrents, while remaining incredibly easy for our sales team to use in multiple environments."
In development for more than two years, SafeStream is rolling out at studios and networks across the country.
See SafeStream at this year's NAB convention in Las Vegas, from April 18th-21st at booth SL9416 in the lower south hall.
About MediaSilo
Video is at the heart of the changing way we're engaging audiences and telling stories, making every company a media company. MediaSilo's flexible video sharing platform sits in the center of the video lifecycle, working with clients' existing tools and workflows to keep teams connected, assets secure and content beautifully and seamlessly presented.
Whether a professional is producing video within a media company, agency or brand, MediaSilo empowers storytellers everywhere to collaborate and present in the way that works best for them. The MediaSilo platform handles encoding and playback, review and approval, and media management, combining enterprise-level security and on-demand watermarking with elegant usability. MediaSilo integrates with most hosting, productivity and storage solutions, adapting to existing workflows and freeing clients up to tell their stories.  
For more information, contact:
Stephanie Ross, (781) 353-7006, sross(at)mower(dot)com
or
Keith Hevenor, (315) 413-4225, khevenor(at)mower(dot)com