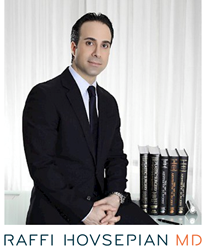 Beverly Hills, Ca (PRWEB) April 06, 2016
Sky News UK featured Beverly Hills aesthetic surgeon Dr. Raffi Hovsepian to discuss botched surgeries and the importance of seeking a highly skilled plastic surgeon, as well as the direction that plastic surgery could be heading. In an area like Beverly Hills, where beauty drives a large percentage of commerce, cosmetic surgery procedures can become addicting and reach a level that's over the top. Even high profile celebrities like Khloe Kardashian have admitted to bad experiences with cosmetic surgery.
Beverly Hills, California, is known for its high demand for plastic surgery and the expert surgeons that fill that demand. However, for people who cannot afford the Beverly Hills prices, cheap alternatives to expensive aesthetic surgeries are becoming more readily available. These low-cost substitutes can cost the patient even more money in the long run, though, because they can easily become botched and give the patient a plastic, unnatural look.
"Too often, we see patients coming in and having several cosmetic surgeries at a fairly young age. As we look at the history, we generally see that they are coming in for corrective procedures. We avoid the extra financial burden on our patients by giving them a higher quality procedure that looks natural the first time around," said Dr. Hovsepian.
Dr. Hovsepian's results look natural and leave the patient feeling more confident than before. He has made a name for his practice by providing his patients with cutting-edge technology and genuine, personalized care. Many before-and-after pictures can be viewed on Dr. Raffi Hovsepian's social media accounts.
Despite hearing horror stories of slipshod surgeries, many people continue to search for a cheap alternative to reach their aesthetic goals. Because the risk can even be fatal with these substitutes, it's important that the consumer realize, as with anything, you get what you pay for.
About Dr. Raffi Hovsepian
Dr. Raffi Hovsepian is a triple board certified plastic and aesthetic surgeon. He has pioneered the innovative liposuction procedure Shrink-Wrap Liposuction™. He Dr. Hovsepian has received numerous awards for his achievements, including indoctrination into the American Board of Medical Specialties, Top Doctor 2016 by Castle Connolly Medical Ltd and Honors of Distinction and Excellence by the Consumers' Research Guide of America. He also completed fellowships in aesthetic surgery of the nose, face, breast, and body. He has appeared on multiple television programs and in popular magazines such as The Dr. Oz Show, Entertainment Tonight, Primer Impacto, The Globe, In Touch Weekly and Life & Style Magazine.