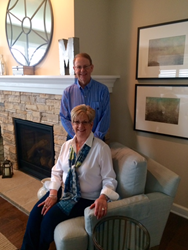 Sugar Grove, Illinois (PRWEB) April 07, 2016
The desire to live near family compelled Cathy and Larry Macari to move to Meadowridge Villas in Sugar Grove. The neighborhood from K. Hovnanian® Homes features 56 brand-new villas nestled within the existing Prestbury community.
When travelling from Bourbonnais to babysit their grandchildren each week, the Macaris casually researched condominiums in Sugar Grove and surrounding towns with the hopes of moving closer to their daughter and her family. After eight years, they decided that the timing—and community—was right when they landed on Meadowridge Villas.
"The number one reason we liked Meadowridge Villas was because it was created for people our age," said Cathy.
A planned community for adults 55 and older, Meadowridge Villas features maintenance-free living—all yard work and exterior home maintenance is handled by the homeowners' association.
"Living here, we don't have to worry about snow removal in the winter or lawn care in the summer," said Larry. "At this point in our lives, that is very important."
Plus, right outside the Macaris' door are all the amenities of Prestbury. These include tennis courts, a pool and the Cheshire clubhouse, which has a multipurpose room that can be rented, an outdoor patio, and kitchenette. Three lakes, two parks and a nature trail provide plenty of opportunities to experience the outdoors, as well.
"You can be as social as you like," said Larry. For example, he links up with golfers in the community to play the nearby 18-hole golf course. With tree-lined fairways and well-placed bunkers and water hazards, it is a sporty yet challenging course. It also has an outing facility, bar and dining room, halfway house, outdoor eating area, driving range, practice putting green, and pro shop.
"Meadowridge Villas is a very welcoming neighborhood," said Cathy. "The ladies get together once a month and there are always activities going on—there was even a holiday party."
In addition to the freedom of a maintenance-free lifestyle, Meadowridge Villas offered the Macaris the convenience of having everyday living spaces on one level. That's because all four of the neighborhood's designs boast luxury owners' suites on the first floor. Floor plans range from 1,673 to 2,540 square feet with two or three bedrooms and two to three baths. Base prices range from $237,995 to $265,995 (prices subject to change).
The Macaris purchased a Willow floor plan, which they feel perfectly fits their needs. At 2,377 square feet, the Willow is about half the size of the home the Macaris owned in Bourbonnais, where they had a total of about 5,000 square feet from their 2,900-square-foot ranch with partially finished basement. However, the couple feels their new home has everything they need—and none of the wasted space they don't use. Overall, the Willow is more manageable for them.
"I love the kitchen," said Cathy, explaining that it has an 11-foot island plus a pantry. The couple upgraded the finishes to include white cabinets and black granite for a contemporary, polished look.
Larry, on the other hand, appreciates all the storage space, especially the basement.
Both enjoy the first floor, where they spend the majority of their time. The kitchen opens on one side to the dining room and on the other side to the family room, creating a wide-open layout for everyday living that is also ideal for entertaining. Abundant windows and sliding glass doors leading to the backyard allow in plenty of natural light and keep the space bright and airy.
The laundry room is conveniently located off the attached two-car garage. A secondary bedroom adjacent to a full bath can be used for overnight guests or as a den, library or office.
Also on the first floor is the owners' suite, which boasts a walk-in closet and adjoining private bath with his and her vanities, a shower and linen closet.
Upstairs is a third bedroom with walk-in closet along with a linen closet, full bath, and loft.
"We turned the second floor into an expansive guest suite complete with sitting/play area," said Cathy. "This space works well for when the grandkids come over or if we need an extra bedroom for friends or family."
During the homebuying process, the sales team at Meadowridge Villas was awesome, said Cathy. In fact, she still stops by to say hi. And as an unexpected touch, the couple received a basket from the construction team of useful items they would need after they moved in.
Overall, the combination of a personable and professional building team, the right-size home, community amenities, maintenance-free living, and a location near family made Meadowridge Villas the perfect choice for Cathy and Larry Macari.
To learn more about Meadowridge Villas, visit the sales center at 1175 Woodridge Drive #B in Sugar Grove. The community is located north of Hankes Road and just west of Rt. 56.
The model is open 11 a.m. to 6 p.m. daily.
Each Meadowridge Villas home shall be occupied by at least one resident who is 55 years of age or older. No person under the age of 18 years shall be a resident of the home. However, a person under the age of 18 may be a guest of a resident for no more than 30 days in any six-month period.
For more information, call (630) 466-4733. Or log onto http://www.khov.com/meadowridgevillas.
About Hovnanian Enterprises®, Inc.
Hovnanian Enterprises, Inc., founded in 1959 by Kevork S. Hovnanian, is headquartered in Red Bank, New Jersey. The Company is one of the nation's largest homebuilders with operations in Arizona, California, Delaware, Florida, Georgia, Illinois, Maryland, Minnesota, New Jersey, North Carolina, Ohio, Pennsylvania, South Carolina, Texas, Virginia, Washington, D.C. and West Virginia. The Company's homes are marketed and sold under the trade names K. Hovnanian® Homes, Brighton Homes® and Parkwood Builders. As the developer of K. Hovnanian's® Four Seasons communities, the Company is also one of the nation's largest builders of 55+ homes.
Additional information on Hovnanian Enterprises, Inc., including a summary investment profile and the Company's 2014 annual report, can be accessed through the "Investor Relations" section of the Hovnanian Enterprises' website at http://www.khov.com. To be added to Hovnanian's investor e-mail or fax lists, please send an e-mail to IR(at)khov(dot)com or sign up at http://www.khov.com.
# # #
Cathy and Larry Macari have given permission for their names to be used in this material and approved the content of this message.