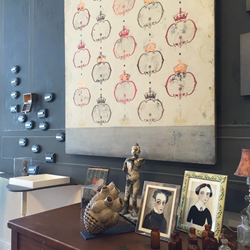 The B-Side is becoming a gathering spot for anyone who lives in walking distance. And it's cool enough to make the drive!
Berkeley, CA (PRWEB) April 08, 2016
The neighborhood strip of B-Side in Berkeley, which formally seemed lack-luster with vacant shops, has been injected with a string of new, cool shops and businesses.
When early settlers to the B-Side, like Caffe Trieste—a fixture in SF having been the first espresso house opening 60 years ago—set up a sister shop in the Berkeley hood, little else was around.
Today, this single block packs over 16 shops, restaurants and galleries into a short stretch—many of which are new.
One of the most recent additions to B-Side—uBe Art Gallery—has brought on DIY's Fresh Coat Host Shannon Kaye—who was recently featured in Elle Décor for her color and design expertise—to transform the space.
Shannon's bold color choice and hand-stenciled panels have transformed the environment, along with her unique home décor which fills the space alongside the array of whimsical art featured at uBe Art—a makeover inspired by her upcoming April 23rd workshop, HUE and uBe's May Exhibition.
"Shannon has created the perfect world for HUE and our May exhibition, In My Absence- an exhibition of portraits," says owner Winn Taylor. "And the B-Side is just picking up steam! It's exciting to be a part of a growing block. The B-Side is becoming a gathering spot for anyone who lives in walking distance. And it's cool enough to make the drive!"
For those wanting the first peek at the transformation and an opportunity to meet Shannon, a big reveal with mimosas is happening Sunday, April 10th from 11-3PM at uBe.
Other new additions to the B-Side include: Neeko Boutique, offering a fresh take on affordable boho-chic (bohemian chic) clothing; Raina's Textile House, offering a unique selection of textiles from Indonesia, Africa,Thailand, India and Tibet as well as workshops; Longbranch Saloon, aka B Saloon,featuring specialty cocktails and beers as well as contemporary American Cuisine using organic, sustainable, farm fresh ingredients.
These fresh B-Side newbies join a longstanding lineup of shops, restaurants and bars including Caffe Trieste and the Missouri Loung offering live music most nights with everything from jazz and blue grass performers to a lounge DJ vibe, Paisan Italian Restaurant , Claypot Vietnamese, Anchalee Thai Restaurant, Mignonne Vintage Furnishings, Barberella Salon, Juniper Tree, Kiss My Ring, Angelic Peruvian Goods, Ecology Center and Good Vibrations.
The block is growing into a gather spot with new additions filling in all the time—further transforming the face of B-Side Hood.
For more information on all the shops and events visit B-Side's website and follow on Facebook and instagram.