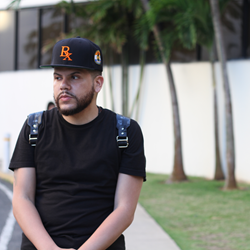 Miami, FL (PRWEB) April 07, 2016
Coast 2 Coast Mixtapes announces the addition of Roc Nation A&R, Randy "Spanish Ran" Rodriquez, as a panelist for the 2016 Music Convention, Labor Day Weekend in Miami, FL. Coast 2 Coast brings together independent artists to network and speak with many tastemakers in the industry, and none more influential than the A&R.
Born in the South Bronx of New York City, NY, Randy ''Spanish Ran'' Rodriguez had ambition and determination to be apart in the music industry. Growing up he would purchase many albums, but more importantly buy Roc A Fella albums just to see certain executives name in the back covers."
While attending I.A.R. (Institute of Audio Research) to become a Audio Engineer Randy managed to intern at a show called ''The Round Table'' hosted by Lenny S who was VP OF A&R at Def Jam records and currently VP at RocNation. With the ear to always bring brand new talent at the show, including CD's of early work from the likes of Kendrick Lamar, Action Bronson, Mac Miller and A$AP Rocky, Lenny S brought Randy under his wing and had him interning at Def Jam in 2010.
While at Def Jam, Randy helped A&R Coordinate Fabolous, Ne-Yo, The Dream and Jay-Z/Kanye West ''The ''Watch the Throne'' Album. With hard work and dedication Randy manage to cross over from Def Jam to RocNation gaining a A&R Position and helped work on Jay-Z ''Magna Carta'' Album and recently Fabolous ''The Young OG Project''.
About Roc Nation:
Founded in 2008, Roc Nation is a full-service entertainment company, inclusive of artist, songwriter, producer and engineer management; music publishing; touring & merchandising; film & television; new business ventures; and a music label. It is home to a diverse roster comprised of critically acclaimed recording artists, writers and producers including: "Rihanna, Shakira, J. Cole, Rita Ora, Calvin Harris, NO ID, Timbaland, Santigold, DJ Mustard and more".
The annual Coast 2 Coast Convention brings together hundreds of indie artists from across the nation for a weekend of events, which includes panels, showcases, parties, and the VIP Yacht Party and Model Contest. More info about the convention can be found at http://www.coast2coastconvention.com