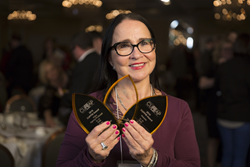 "The entire team at PS&L shares this recognition with our fabulous clients," says Paskill Stapleton & Lord Vice President, Creative Services Bob Oxman.
Glenside, PA (PRWEB) April 07, 2016
Paskill Stapleton & Lord (PS&L) struck gold as part of recent higher education design awards competitions sponsored by College and University Public Relations and Associated Professionals (CUPRAP) and Higher Education Marketing Report (HEMR).
PS&L, a Glenside, PA-based higher education marketing firm, earned a total of four gold awards from the CUPRAP and HEMR competitions, part of a total of nine citations for excellence in competitions covering 2015.
"The entire team at PS&L shares this recognition with our fabulous clients," says Paskill Stapleton & Lord Vice President, Creative Services Bob Oxman. "We work side-by-side with some of the best in higher education, from Presidents and VPEMs to their counterparts in Admissions and Marketing/Communications. The one thing these awards recognize in our eyes is the value of those relationships."
The CUPRAP awards, the 2016 "CUPPIES," saw PS&L win gold in two different categories for the firm's work with the Philadelphia College of Osteopathic Medicine (PCOM). Working closely with Christian Zavisca, web content manager, marketing & communications at PCOM, PS&L was awarded gold CUPPIES for the PCOM enterprise website and the PCOM video project.
PS&L also earned a bronze recognition from the CUPPIES for Manor College's outdoor campaign -- meaning that PS&L won three CUPPIES in three different categories.
The PCOM enterprise website won a second gold award in the HEMR competition, joining Marywood University's International Recruitment Microsite as a gold award winner from HEMR. Christian DiGregorio, the Scranton, PA-based Marywood's director of admissions, and an expert on the recruitment of international students, shares the recognition for this award with PS&L.
PS&L also earned Merit awards from the Atlanta-based HEMR for the PCOM video project, and Neumann University's recruitment website and Viewbook, working with Steve Bell, the Aston, PA-based Neumann's executive director of marketing and communications, and a long-time PS&L client.
PS&L earned a bronze from the Third Annual Education Digital Marketing Awards in that organization's Admissions Website category; this for PS&L's work on the Plainview, TX-based Wayland Baptist University's Online Admissions microsite.
Headquartered in Glenside, PA, Paskill Stapleton & Lord is a higher education enrollment management and education marketing firm focused on the long-term enrollment health of our client institutions.
CUPRAP is a voluntary organization of communications professionals from colleges, universities and independent schools dedicated to advancing the understanding of higher education and enhancing the professional development of its members. CUPRAP has nearly 350 members from 100 institutions.
Higher Education Marketing Report is part of the HMR Publications Group, a source for marketing news and information from around the nation in the fields of higher education and healthcare marketing.