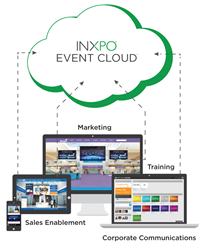 Chicago,Illinois (PRWEB) April 07, 2016
INXPO, the leader in Live Online Events, Powered By Video, announces their upcoming 12.8 Product Release available to all customers on April 9, 2016. The release includes new security enhancements to INXPO's Event Cloud®, its core event platform, including double opt-in for registration verification along with protected password creation for administrators.
"As a cloud service provider we understand the importance of meeting security standards and making sure we are in compliance so our customers feel their data and content are safe," commented EVP of Product & Development, Rich Hawkinson for INXPO.
Other features of the release include access to the new Event Center that allows users to connect multiple events or individual webcasts in a single location for easy access. Packaging events into themes or categories allows easy navigation for attendees in a familiar destination. In addition, the new Instant Media Download functionality allow customers to immediately download MP4 files of their webcasts for syndication outside of the INXPO platform. With flexible recording options including full console recording, media and slides, and slides only, the auto-generated files can be customized to fit the customers' needs.
This latest release showcases INXPO's commitment to providing the best end-to-end event experience with its Event Cloud® and Events-as-a-Service (EaaS) offering.
About INXPO
INXPO's Event Cloud® empowers organizations to reach their stakeholders through engaging online video events — on any device, at any time. Our solutions for Marketing, Corporate Communications, Training and Sales Enablement are trusted by many of the world's most esteemed enterprises, including Aon, Cisco, Gap, Microsoft and UnitedHealthcare, to create memorable online experiences.
To learn more about how INXPO can fit into your organization's communications strategy contact us at contactus(at)inxpo(dot)com or call us at (312) 962-3708.