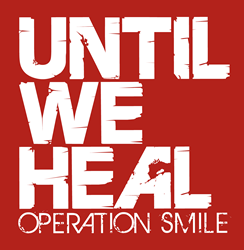 Virginia Beach, Va. (PRWEB) April 07, 2016
Hundreds of community members will pound the pavement and raise their voices to bring attention to the need for timely and safe surgery around the world.
The Operation Smile Until We Heal Community Walk will symbolize the distance many patients, worldwide, must travel to reach a hospital or receive any form of health care. The event is part of the launch of Operation Smile's Until We Heal campaign, a youth-driven initiative to bring attention to the global need for access to safe surgery, http://www.untilweheal.org.
Representatives from Sentara, LifeNet, the Virginia Department of Economic Development, as well as local college and university students will take part in the event.
The community walk is scheduled for Friday, April 8th, from 10:30.a.m. – 12:30 p.m. Participants will walk from Operation Smile Headquarters, 3641 Faculty Boulevard, Va. Beach, to the CHKD Health and Surgery Center at 2021 Concert Drive, Va. Beach.
Speakers will include:

Dr. Bill and Kathy Magee: Co-founders of Operation Smile
Dr. Jesus Inciong: Pediatric Plastic Surgeon, Children's Hospital of The King's Daughters.
Jalana McCasland: Vice President of Physician Practice Management, Children's Hospital of The King's Daughters.
About Operation Smile
Operation Smile is an international medical charity that has provided hundreds of thousands of free surgeries for children and young adults in developing countries who are born with cleft lip, cleft palate or other facial deformities. It is one of the oldest and largest volunteer-based organizations dedicated to improving the health and lives of children worldwide through access to surgical care. Since 1982, Operation Smile has developed expertise in mobilizing volunteer medical teams to conduct surgical missions in resource-poor environments while adhering to the highest standards of care and safety. Operation Smile helps to fill the gap in providing access to safe, well-timed surgeries by partnering with hospitals, governments and ministries of health, training local medical personnel, and donating much-needed supplies and equipment to surgical sites around the world. Founded and based in Virginia, U.S., Operation Smile has extended its global reach to more than 60 countries through its network of credentialed surgeons, pediatricians, doctors, nurses, and student volunteers. For more information, visit http://www.operationsmile.org.