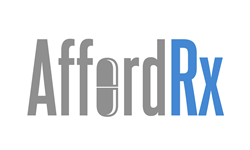 Atlantic City, NJ (PRWEB) April 19, 2016
AffordRx.com is a new way for patients to save up to 84% on prescription drugs. With one card, consumers can save hundreds of dollars over the costs of multiple prescriptions ─ simply by shopping smart. AffordRx.com is a price-comparison tool and allows customers to compare the cash price they will be expected to pay at the pharmacy counter with other prescription providers. AffordRx.com is proud to offer a prescription-savings plan that really works for the patient.
Simple and Free
AffordRx.com's prescription savings card is primarily aimed at those who pay most of their costs out-of-pocket; although it can also be used by patients with existing insurance. When using AffordRx.com's drug card, the cost of generic prescriptions is often lower than an average insurance co-pay. It is a little known fact that prescription costs vary from pharmacy to pharmacy. Patients can pay $15 for a prescription at one location; only to find that the same drug is much more expensive at a different location. AffordRx.com eliminates the guess work involved.
Free to print out, the card is accepted at over 64,000 pharmacies across the country (Wal-Mart®, CVS®, Walgreens®, Kmart® and Rite Aid®, just to name a few). There are no health restrictions, the card is unlimited and never expires, and best of all ─ there is no paperwork. Patients pay nothing. And although savings for name-brand drugs hovers around 10−20% (due to patents), savings on generic drugs can be as high as 84%. There is no reason not to use a card from AffordRx.com.
Safe for the Whole Family
Anyone, regardless of age, can benefit from a savings card. Simply print a new card out for each member of your family who requires a prescription. All personal information is kept completely private, so you risk nothing.
AffordRx.com's card is accepted at every major chain pharmacy across the country. Our card covers thousands of common prescriptions, like: Vyvanse, Vigamox, Suboxone, Linzess, Xarelto and Ciprodex.
The average American, covered by insurance, can expect to pay up to two thousand a year in prescription costs. This number does not account for under-covered patients, patients with chronic or severe illness (like cancer), or patients not covered by insurance at all. These unfortunate consumers can pay in the tens of thousands of dollars for prescription costs.
Note: The information above is intended to supplement, not substitute for, the expertise and judgment of your physician, pharmacist or other healthcare professional. It should not be construed to indicate that use of the drug is safe, appropriate, or effective for you. Consult your healthcare professional before using this drug.
About AffordRx.com
AffordRx.com was started to provide discounts on prescription drugs to those who need it most. Our goal is to provide you with the largest savings possible, when compared to other cards. Please compare the savings the AffordRx card will bring to that of other leading providers.