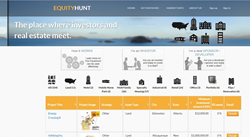 We are happy to see the continued activity on our site, and interaction among our members.
Buffalo, New York (PRWEB) April 12, 2016
The EquityHunt (http://www.equityhunt.com) real estate index is steady heading into the second quarter. It is down slightly from a point during the 4th quarter, 2015.
It has improved by over 2% in a year, when looking at the average projected Internal Rate of Return (IRR), while adding over 120 deals during the same period of time. EquityHunt is a free internet platform that connects real estate sponsors/developers with interested accredited investors. The index uses projected IRR values from the deals the sponsors/developers post on the site, and organizes them based on asset type.
There have been hundreds of deals posted on EquityHunt since its founding in early 2013, and there are over 140 deals that are active currently.
The index has improved from an average projected IRR of 18.48% at this time last year, to 20.52% currently.
EquityHunt allows sponsors/developers to choose one of the following asset types: MultiFamily, Land, Portfolio, Hotel, Industrial, Specialty Housing, Retail, Mobile Home Park, Office, & Flips/Renovations. The EquityHunt team is pleased with the growth of the site, and the increase in activity amongst the sponsors/developers.
"Much like the NAREIT Index, and the stock market, the EquityHunt Index is generally stable," said Steven Czyrny, Marketing Director. "We are happy to see the continued activity on our site, and interaction amongst our members."
The EquityHunt Index can be found on the site's Market Information section (http://www.equityhunt.com/market_info). In addition the page also has live updates of the NAREIT Index, the Dow Jones, and the S&P 500.
About EquityHunt
EquityHunt is a free to use internet platform that lets real estate developers list their deals for investors to browse through. If interested, these investors can then get directly into contact with the developer through the EquityHunt website, and work together to get the deal funded and developed. To learn more about the company, visit http://equityhunt.com