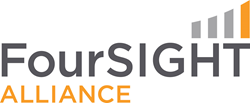 ...The FourSIGHT Alliance presents an opportunity to network, share best practices, and explore better ways to serve clients...
Plymouth, MI (PRWEB) April 07, 2016
When Wayne Titus, CPA, PFS, AIFA®, of AMDG Financial, Bert Doerhoff, CPA, of Aura Wealth Management, and Dale Lam, CPA, CFP®, of Strategent Financia l first met, the markets were falling fast. It was the start of the Global Financial Crisis, and the three were at a conference to learn how to work with high-net-worth investors. But as they got to know each other, they realized they shared a more important common goal: serving their clients' best interests with fee-only, fiduciary financial advice.
"Each of us could tell stories about clients being abused by their advisers," said Titus. "They were being sold terrible financial products that were expensive, and not in their best interests. We wanted to be different."
The three formed an informal study group, and began having weekly calls to share ideas and strategies to maximize the value of the advice they provided to clients. "Over the years, we have each benefited from the counsel of our peers," said Lam. "While we have similar backgrounds and shared values, our experience is varied. Having different perspectives not only deepens the quality of our advice; it also broadens our options when it comes to providing solutions to clients," he added.
The group decided to form the FourSIGHT Alliance to inspire other advisers, with similar values, to join them. The Alliance is designed to provide value to clients in three major ways:

Personal Service Plus – Clients of the FourSIGHT Alliance partners not only get the personal attention they expect from a boutique advisory firm; they also benefit from the firm's access to additional expertise and unbiased perspectives from other trusted advisers.
A Synergistic Approach – While member firms have their own strengths, the FourSIGHT Alliance enables those firms to leverage the strengths of other members. Clients benefit from a wider network of resources, including research and individuals with specialized practice areas.
Thought Leadership – Through regular communication and collaborative study, members of the FourSIGHT Alliance share ideas and develop investment strategies that place the interest of their clients first.
"For solo practitioners and small advisory firms, the FourSIGHT Alliance presents an opportunity to network, share best practices, explore better ways to serve clients and problem-solve with other experienced, like-minded advisers," said Doerhoff. Interested advisers can contact any member of the FourSIGHT Alliance for more information.
About The FourSIGHT Alliance
The FourSIGHT Alliance is a national network of fee-only, client-centric advisers who bring expertise and an unbiased perspective to ensure clients benefit from investments strategies that place their interests first. Founding members of the FourSIGHT Alliance include AMDG Financial in Plymouth, MI, Aura Wealth Management in Jefferson City, MO, and Strategent Financial in Harrisonburg, VA. For more information, visit FourSIGHTAlliance.com.