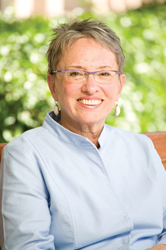 As dean of one of the best education colleges in the nation, Dr. Koerner is in a position to create real change. With her experience and knowledge, I know her talk will be powerful.
(PRWEB) April 07, 2016
TEDxASU announces Dr. Mari Koerner, dean of Arizona State University's (ASU) Mary Lou Fulton Teachers College as speaker for the first ASU TEDx event, held on April 23rd, 2016, according to Ammar Tanveer, project coordinator.
"As dean of one of the best education colleges in the nation, Dr. Koerner is in a position to create real change," says Tanveer. "With her experience and knowledge, I know her talk will be powerful."
As head of one of the largest teacher preparation programs, Dr. Koerner understands the challenges facing teachers, students, and education. As an educator and researcher, has seen much success during her career; as dean, she has led the college to higher national rankings for the past six years.
Dr. Koerner says that it is very exciting to share ideas about teaching and learning on a global stage. Her TEDxASU talk is titled "Can You Teach a Dolphin How to Type." In this talk, she will be discussing how important real engagement of students leads to their success. And that learning extends far beyond the walls of school.
"I hope to get people to question the 'given' in schools today and think about how every teacher a child has can enhance his or her learning," says Dr. Koerner.
Dr. Koerner spent years researching teacher preparation programs and believes that teachers who are properly trained and know how to effectively engage their students are change makers.
As a student educated in the state of Arizona, Tanveer has a special interest in Dr. Koerner's talk.
"Teachers shouldn't resort to forcing a child to learn a concept, instead they should work towards increasing the child's desire and drive to learn about a topic," says Tanveer.
The TEDxASU event will be held Saturday, April 23, 2016, from 10am-2pm in the Marston Theater on Arizona State University's Tempe campus. Those interested in attending the event may find the most up-to-date information at http://tedxasu.com/ and by following the official event Facebook page at https://www.facebook.com/events/1667297800192432/permalink/1677739139148298/.
This event will feature six speakers from various disciplines who are all leaders in their respective fields. Other speakers announced are: Dr. John Shufeldt, author of the Outlier Series, speaker, entrepreneur, emergency medicine physician and lawyer; Dr. Jacobs, PhD, a professor of Virology and Director of the School of Life Sciences at Arizona State University; and Dr. Maulik Parikh, of the ASU Cosmology Initiative.
The event will also be live streamed on the TEDxASU website at http://tedxasu.com/. The ASU Student Creative Services will provide videography and host the live stream for this event.
For media inquiries about TEDxASU, contact Melody Serafino at TEDxPR(at)ted(dot)com.
About TEDx, x = independently organized event In the spirit of ideas worth spreading
TEDx is a program of local, self-organized events that bring people together to share a TED-like experience. At a TEDx event, TED Talks video and live speakers combine to spark deep discussion and connection. These local, self-organized events are branded TEDx, where x = independently organized TED event. The TED Conference provides general guidance for the TEDx program, but individual TEDx events are self-organized. (Subject to certain rules and regulations.)
About TED
TED is a nonprofit organization devoted to Ideas Worth Spreading, usually in the form of short, powerful talks (18 minutes or fewer) delivered by today's leading thinkers and doers. Many of these talks are given at TED's annual conference in Vancouver, British Columbia, and made available, free, on TED.com. TED speakers have included Bill Gates, Jane Goodall, Elizabeth Gilbert, Sir Richard Branson, Nandan Nilekani, Philippe Starck, Ngozi Okonjo-Iweala, Sal Khan and Daniel Kahneman.
TED's open and free initiatives for spreading ideas include TED.com, where new TED Talk videos are posted daily; the Open Translation Project, which provides subtitles and interactive transcripts as well as translations from thousands of volunteers worldwide; the educational initiative TED-Ed; the annual million-dollarTED Prize, which funds exceptional individuals with a "wish," or idea, to create change in the world; TEDx, which provides licenses to thousands of individuals and groups who host local, self-organized TED-style events around the world; and the TED Fellows program, which selects innovators from around the globe to amplify the impact of their remarkable projects and activities.
Follow TED on Twitter at http://twitter.com/TEDTalks, on Facebook at http://www.facebook.com/TED  or Instagram at https://instagram.com/ted.