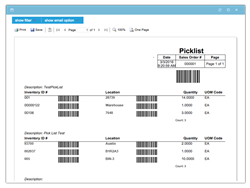 Our goal is to empower our customers with the best fitting inventory solution that delivers key business intelligence, regardless of industry
San Jose, California (PRWEB) April 07, 2016
Showcasing its expanding arsenal of warehouse and inventory management tools, ASAP Systems has announced the launch of several new picklist features in BarCloud, its leading cloud inventory management solution. BarCloud now allows users to create, track, and print picklists to improve accuracy and productivity in stockrooms or warehouses.
"Our goal is to empower our customers with the best fitting inventory solution that delivers key business intelligence, regardless of industry," said Greg Wachowiak, Senior VP of Engineering at ASAP Systems. "These technical enhancements help us offer an even more complete and flexible portfolio of solutions."
BarCloud is designed to accommodate your order fulfillment workflow, whether your inventory requires basic quantity tracking or batch/lot tracking. Managers and employees can effectively handle the fulfillment of large amounts of orders and SKU's, including perishable and expirable inventory such as food and medications.
New custom reporting options for picklists help users gain insight from past orders and picking activity. You can choose your own reporting fields and apply custom formatting to ensure that warehouse or accounting teams receive the information they need. The step by step process involves selecting from available fields, grouping them, and then choosing page setup options.
The picklist workflow using BarCloud is simple— employees print the picklist, bring it into the warehouse or stockroom, scan barcodes for each item and its respective location, and enter the quantity being pulled. This is an easily repeatable and proven process that helps reduce cycle time and errors.
For more information about the Inventory Picklist feature visit: https://www.asapsystems.com/barcloud/inventory-picklist.php
About ASAP Systems
ASAP Systems provides leading barcode based inventory management and asset tracking solutions, offering both cloud-based and on-premises systems. ASAP Systems helps businesses of almost every industry vertical reduce manual data entry, labor hours, and automate record keeping throughout their inventory workflow. ASAP Systems has offices in San Jose, California (headquarters) and Austin, Texas.