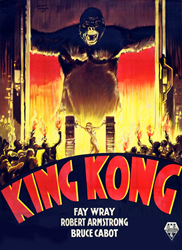 Fay Wray's daughter will read from her mother's memoir and answer questions.
Los Angeles, CA (PRWEB) April 07, 2016
The upcoming International Film Festival North Hollywood will feature an exclusive screening of a new documentary about Academy Award-winning screenwriter Robert Riskin ("It Happened One Night," "Meet John Doe"), and his time as the head of the Army's secret film unit during World War II. 
"Projections of America," directed by Peter Miller ("A.K.A. Doc Pomus," "American Experience," co-producer on Ken Burns "War"), follows the life and career of Riskin, the man responsible for these films no one in America knew existed yet were seen by millions of others around the globe. As propaganda, they chronicle an idealized American way of life. Globally influential in their day, the films have largely been forgotten, until now. "Projections of America" will have its Los Angeles premiere on Saturday, April 30 at 4:00 PM.
Director Peter Miller and editor Amy Linton will be in attendance, along with Robert Riskin's daughter, also a renowned writer/producer in her own right, as well as humanitarian activist, Emmy Award-winner and former President of the WGA/West, Victoria Riskin. The film includes interviews with Ms. Riskin, film historian Cecile Starr, and Los Angeles Times film critic Kenneth Turan, and is narrated by John Lithgow ("Interstellar" "3rd Rock From the Sun").
"We are especially pleased to have Vicki with us for this event," said the festival's artistic director, Nicholas Goodman. "Not only will we get the benefit of her knowledge about her famous father, we will also be able to find out more about her famous actress mother, Hollywood's original "Scream Queen," Fay Wray."
The festival will screen the original 1933 classic, "King Kong," starring Fay Wray and Robert Armstrong, from a print restored by Martin Scorsese's nonprofit Film Foundation, on Saturday, April 30 at 9:00 PM. "We are thrilled that Ms. Riskin has graciously offered to introduce the picture, read from her mother's memoir and take questions from the audience," Goodman announced.
Following the screening of "King Kong" there will be a party at Kahuna Tiki, 11026 Magnolia Blvd., North Hollywood, CA 91603.
The International Film Festival North Hollywood runs April 28 thru May 1. Tickets for the festival are available for sale at squadup.com or the festival website: http://www.iffnoho.com
FESTIVAL SPONSORS:
Whole Foods Market Sherman Oaks, VEDC, Birns & Sawyer Hollywood, SquadUp, NoHo BID, NoHoArtsDistrict.com, The Federal Bar, Kahuna Tiki, Skynny Kitchen, deWolff Advisors, and Holiday Inn Express-NoHo
ABOUT INTERNATIONAL FILM FESTIVAL NORTH HOLLYWOOD:
The International Film Festival North Hollywood is a 501(c)(3) non-profit organization that celebrates the art of filmmaking, helps support a community of artists and showcases North Hollywood as an entertainment and travel destination. IFFNoHo supports and nurtures emerging independent filmmakers and their stories from around the world not currently found in mainstream American cinema. Our goal is to collaborate with community partners to build social cohesiveness, philanthropy and volunteerism using film as the catalyst.