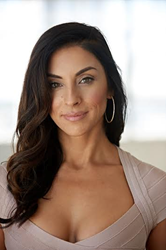 Los Angeles, CA (PRWEB) April 07, 2016
America's favorite sexuality and trauma expert, Psalm Isadora, made her television debut on Playboy TV's Cougar Club LA, which premiered March 19, 2016. Isadora is a highly sought after sexuality and trauma expert who specializes in women's health and empowerment, as well as modern sexual education for adults.
Isadora is a featured expert in Buzzfeed's newest web-series Modern Sex, and Founder of global sex coaching program Urban Kama Sutra, where she blends beauty with brains as she inspires the next generation of sexually empowered women. Isadora also created OYoga, a combination of yoga, belly dance and burlesque to help women unlock their own inner sex goddess. Her groundbreaking work has been featured on the cover of OM Yoga Magazine, Mashable, KABC's Midday Live with Dr. Drew, PodcastOne's Brandi Glanville Unfiltered, YourTango, AskMen, Bustle, and many more.
Raised in a religious cult as a child, Isadora endured years of sexual trauma that eventually ignited her passion to teach sexual empowerment and modern sexual education. For eight years, Isadora has traveled to India to delve deeper into the path of Tantra and teach yoga to sex-trafficked women in the red light district of Calcutta. Her volunteer work with the young prostitutes of Calcutta would eventually become part of a documentary titled "Shakti."
Cougar Club LA is a new docu-reality series which aired March 19th at 10 pm ET/PT, exclusively on Playboy TV. From the creative mind behind The Real World, The Osbournes and Last Comic Standing, Cougar Club LA puts you in a mansion with five sensual, mature and single women who are always looking to devour young men.
For more information on Psalm Isadora, please visit: http://www.PsalmIsadora.com
About Playboy TV:
First launched in 1982, Playboy TV is available in more than 66 million homes nationwide and over 70 countries throughout Europe, Latin America, and Asia. Playboy TV offers viewers a variety of genres including reality series, international travelogues and behind-the-scenes glimpses into the world of Playboy, all with the fun and sensual tone for which Playboy is known.