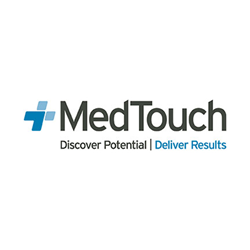 "The MedTouch team is honored to receive the distinction as a fastest-growing private company in Massachusetts for four consecutive years," said Paul Griffiths, CEO + Founding Partner of MedTouch.
Boston, Mass (PRWEB) April 26, 2016
MedTouch, the leading provider of online strategy and technology for the best brands in healthcare, has been named to the Boston Business Journal (BBJ) Fast 50, a list of the top 50 fastest-growing private companies in Massachusetts. This year's list includes Massachusetts-based companies that recorded the highest three-year growth rate in revenue as of December 31, 2015, with a starting baseline of $1 million. This year, MedTouch is recognized as the 26th fastest-growing company in Massachusetts.
This is the fourth consecutive year that MedTouch has received the honor, formerly known as "Pacesetters". MedTouch has also been recognized nationally by Inc. 500 | 5000 as a fastest-growing private company in 2013, 2014 and 2015. The BBJ Fast 50 are among the greatest innovators, leaders and entrepreneurs across a variety of industries driving the Massachusetts economy.
"These companies represent the best examples of the Boston economy's strength and vibrancy," Boston Business Journal Publisher and Market President Carolyn M. Jones said. "This kind of top-line growth is driving the state's economy and generating the kind of excitement that attracts global brands and their talent here."
MedTouch is focused on integrated digital strategy to deliver long-term digital initiatives across multiple disciplines to hospitals, health systems and health plans, including enterprise content management system (CMS) solutions, UX + responsive design, content services, content marketing, service line marketing, and search + analytics. MedTouch delivers strategy and technology with the leading content management platform – Sitecore Experience Database (XP) – and has gained prominence as one of 13 Sitecore Platinum Implementation Partners and the only one that is exclusively healthcare focused.
"The MedTouch team is honored to receive the distinction as a fastest-growing private company in Massachusetts for four consecutive years," said Paul Griffiths, CEO + Founding Partner of MedTouch. "We owe this consistent growth to our clients and our strong team dedicated to leading the industry in digital strategy and technology. We look forward to continuing to grow our team while building on our strategic partnerships to deliver exceptional results for new and current clients."
About MedTouch
MedTouch is proud to be the online strategy and technology partner for the best brands in healthcare. Clients select us because our depth of experience brings clear vision to complex projects. With a dedicated healthcare team, a strong understanding of digital strategy and technical requirements, and demonstrated experience developing websites, MedTouch will help you discover potential and deliver results. MedTouch has four locations across the U.S. and was named to the Inc. 500 | 5000, an annual list of the fastest-growing private companies, in 2013, 2014 and 2015. http://www.medtouch.com