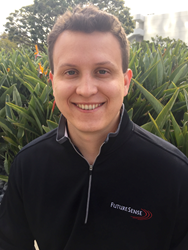 San Rafael, CA (PRWEB) April 07, 2016
Thomas joined the FutureSense team in March of 2016 as a consultant specializing in the area of compensation. He is interested in a range of topics including compensation, database management, communications, and critical thinking.
Thomas is an outstanding addition to FutureSense, which specializes in human capital workforce planning, leadership development, executive coaching, talent management, compensation, cultural change initiatives and employee relations. Thomas will certainly be an integral force amongst a team of innovators.
Thomas joins FutureSense from Regus Management Group, where he worked as a Community Manager. Thomas found this to be an amazing opportunity to grow his network, gain valuable work and life skills, and learn the administrative and operation functions of business. Before Regus, Thomas was the primary salesman and brewery representative for Valiant, a local Orange brewery.
Thomas earned a Bachelor of Arts in Liberal Arts from Thomas Aquinas College; a school that focuses on learning utilizing the Socratic method and the Great Books. Thomas Aquinas College has a heavy emphasis on philosophy, theology, critical thinking and communication.
Thomas resides in Orange County and is engaged to be married in November 2016. He is an Eagle Scout of the Boy Scouts, an avid reader, amateur photographer, journeyman philosopher and enjoys playing soccer. He loves to camp, hike, and cook. Thomas is confident that his skills of communication and critical thinking will allow him to excel with FutureSense and be a valuable asset to their clients.